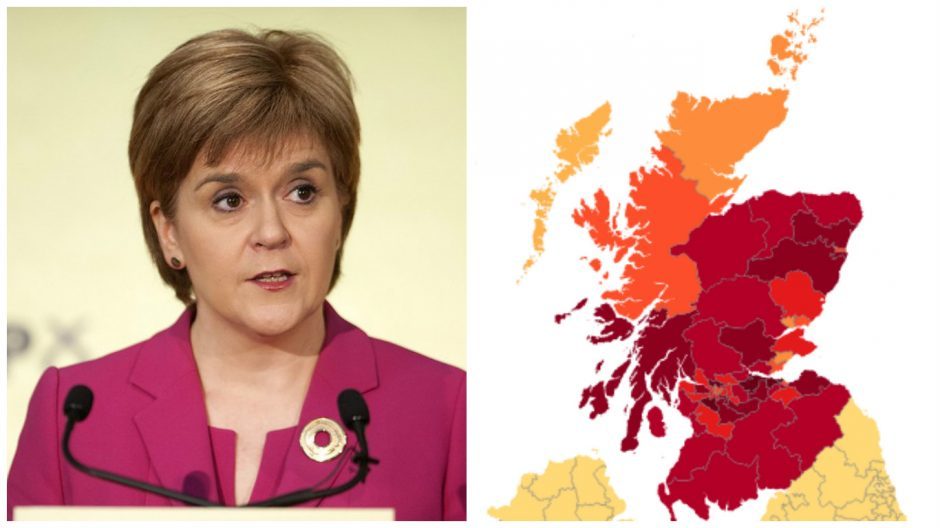 A petition calling for MPs to block a second vote on Scottish independence has surpassed 100,000 signatures.
The campaign, which parliament will now consider for debate, has seen people from north-east constituencies sign up in some of the largest numbers anywhere in the country.
In former SNP leader Alex Salmond's Gordon constituency, 1,918 people backed the petition, while 1,978 people gave their names in Stuart Donaldson's West Aberdeenshire and Kincardine seat – the highest anywhere in the north.
The only constituencies to see a larger number of signatories were East Renfrewshire (2,342), East Dumbartonshire (2,061), Linlithgow and East Falkirk (2,121) – all currently SNP seats – and Edinburgh West (2,267).
In Banff and Buchan the number was 1,536; in Moray, 1474; and in Inverness, Nairn, Badenoch and Strathspey 1,434.
In Kirsty Blackman's constituency of Aberdeen North, some 1,036 had signed and in Ross, Skye and Lochaber 916.
The numbers for Caithness, Sutherland and Easter Ross, the Northern Isles and the Western Isles were 822, 618 and 360 respectively.
The petition, titled 'Another Scottish independence referendum should not be allowed to happen', was created John Innes and has now prompted more than 125,000 people to sign since it was first launched on Monday.
Writing as his justification for the campaign, Mr Innes said: "We in Scotland are fed up of persecution by the SNP leader who is solely intent on getting independence at any cost. As a result, Scotland is suffering hugely."
It comes just days after Nicola Sturgeon said she would seek permission from the Scottish Parliament for a second vote on Scottish independence.
The First Minister, speaking at Bute House, said she would seek to call a referendum following what she called Tory 'intransigence' over demands that Scotland be given a special deal as the UK negotiates to leave the European Union.
She said that it was not just Scotland's relationship with Europe that is at stake but "the kind of country we will become".
The First Minister added: "If I ruled out a referendum, I would be deciding – completely unilaterally – that Scotland will follow the UK to a hard Brexit come-what-may, no matter how damaging to our economy and our society it turns out to be.
"That should not be the decision of just one politician – not even the First Minister.  It will be decided by the people of Scotland. It will be Scotland's choice."
Prime Minister Theresa May accused the First Minister of "playing politics with the future of our country" after the announcement.
Mrs May said: "The tunnel vision the SNP has shown today is deeply regrettable, it sets Scotland on a course for more uncertainty and division creating huge uncertainty.
"And this is at a time when the evidence is that the Scottish people, the majority of the Scottish people, don't want a second independence referendum so instead of playing politics with the future of our country the Scottish Government should focus on delivering good government and services for the people of Scotland.
"Politics is not a game."