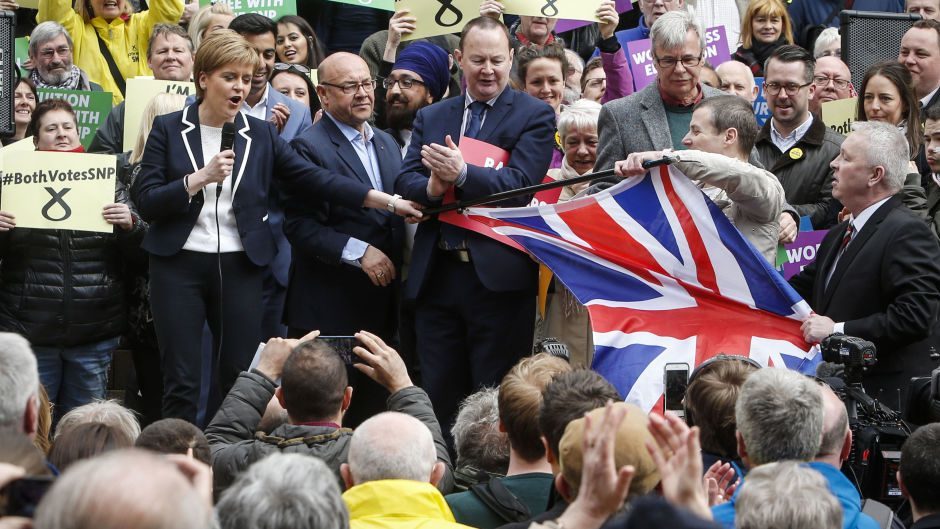 The leaders of Scotland's political parties have made a last-ditch attempt to secure votes in today's election.
SNP leader Nicola Sturgeon told a crowd of supporters in Glasgow she would "deliver the investment" to protect public services.
Labour leader Kezia Dugdale gathered with activists in the party's target seat of Edinburgh Southern to reiterate her plans to make Scotland a "high wage, high skill economy".
At the capital's Royal Botanic Gardens, Conservative leader Ruth Davidson said her bid to form a "strong opposition" would "make sure Scotland gets the better government it deserves".
Polling throughout the campaign has suggested the SNP are comfortably on course to secure a majority, while Labour is in a high-stakes battle with the Tories for second place.
Ms Sturgeon – whose event was crashed by a Union flag-waving protester, Alistair McConnachie, who was previously barred from Ukip for questioning the Holocaust – said: "Education will be my number one priority.
"If I am elected the government I lead will give every newborn a baby box full of essentials to ensure every child has an equal start in life.
"We will double free childcare provision to 30 hours a week and invest £750million into improving education for all. I will protect free higher education and make it accessible for more students.
"And I will deliver the investment needed to make our health service fit for the challenges of the future – with new treatment centres and new plans to improve primary care and mental health."
But Ms Dugdale told activists in Morningside that it was Labour who would "stop the cuts to public services".
She added: "The best future for our country is as a high wage, high skill economy.
"To get there we need to invest in cutting the gap between the richest and the rest in our classrooms, and we need to stop the cuts to public services."
Ms Davidson also spent her final day of campaigning in the capital, appealing to young voters at a rally at the city's Royal Botanical Gardens, where she was introduced by one of the Tories' north-east candidates, Ross Thomson.
A senior Conservative source has suggested there could be as little as 300 votes between the party gaining three or four list seats in the region.
Ms Davidson said: "The devolution generation deserves better.
"So here's my commitment. As our country's strong opposition we'll make sure Scotland gets the better government it deserves."
Scottish Liberal Democrat leader Willie Rennie added: "Everywhere I go, people tell me that they are pleased that we are talking about big issues like education that were neglected while the SNP campaigned for independence.
"The last thing Scotland needs is another five years of debate on the constitution."