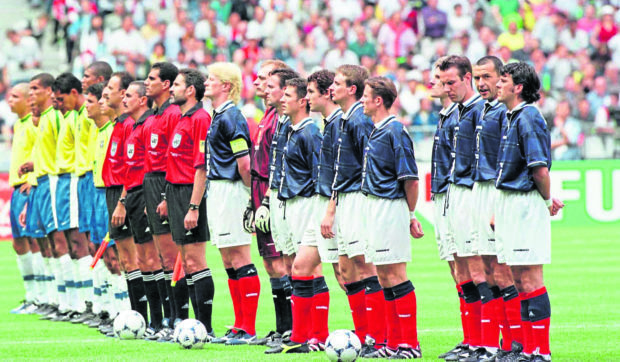 He may be the eternal optimist but former Scotland manager Craig Brown is convinced Scotland's absence from the summer party at the finals of a major tournament are nearing an end.
It has been 20 years since Brown's Scottish team graced the finals and the stage could not have been greater with Scotland given the privilege of opening the 1998 World Cup in France against champions Brazil.
It was the final tournament Scotland have competed in but Brown, now a director at Aberdeen, is confident current incumbent Alex McLeish can break the cycle of failure.
He said: "The opening game of the World Cup in France in 1998 is a career highlight for me as it is regarded as the highest profile game in the history of the Scotland national team.
"We had 110 countries and a television audience of more than one billion watching us take on the world champions Brazil and my job was to keep the focus on the game rather than occasion itself.
"It you had told me then that 20 years later we would still be waiting for the chance to play at the finals of another major tournament I would have been astonished.
"I was fortunate to be involved as a member of the coaching staff of five major tournaments in 12 years.
"Scotland have only been to two European championships and I was manager for both of them.
"It's long overdue but we're looking better equipped to end that drought now."
Brown's optimism stems from the emergence of young defensive talent and he believes some stability and maturity can give McLeish the backbone in his team he sorely needs to build upon.
The former manager believes his club can also play a key part in the years ahead with current and former members of Derek McInnes's squad playing key roles.
He said: "There's a balance to the team which is encouraging. We've got two outstanding full backs in Kieran Tierney and Andy Robertson while the emergence of Scott McKenna has been keen for Alex McLeish.
"The rapid rise of his career this season has been a huge bonus for Alex and I know he was keen to see him and John Souttar together.
"The one to look out for as a potential centre-half next season is Michael Devlin. I'm a Hamilton man and he has been excellent whenever I've watched him. Accies vice-chairman Les Gray told me we have signed one of the best players they've had in years and said he would be a captain in no time at all at Aberdeen.
"Add in Charlie Mulgrew and that's four centre-halves right there, and with the likes of John McGinn and Stuart Armstrong there's some good talent there in front of them in midfield.
"Tom Cairney, of Fulham, is a player rated highly by the manager while Kenny McLean will only get better from playing in the championship in England with Norwich City.
"Ryan Christie is getting better every season while Graeme Shinnie will be a man on a mission to impress after being the nearly man for so long, so it augurs well when it comes to options for the manager."