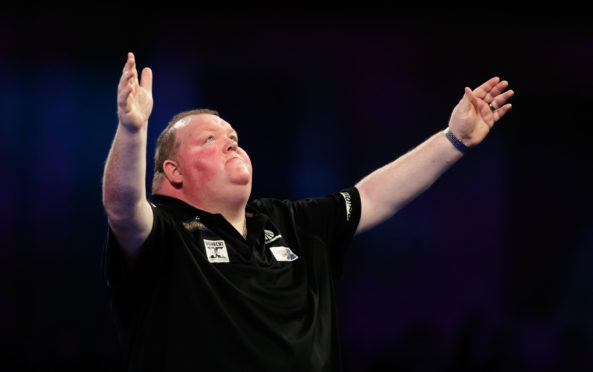 Huntly's John Henderson is dreaming of becoming the latest player to hit a nine-darter at the Premier League Darts in Aberdeen tonight.
There have been eight nine-dart finishes since the inception of the competition, which is played across 16 venues in Europe, in 2005.
Aberdeen has been the venue for three of those perfect legs with Raymond van Barneveld, Phil Taylor and Adrian Lewis all recording nine darters in the Granite City.
Henderson is one of nine 'contenders' who have been chosen to replace the injured Gary Anderson across the opening nine league nights.
The Highlander will take on world champion Michael van Gerwen at the AECC and he would love to be the next player to notch a perfect nine in Aberdeen.
He said: "Somebody mentioned to me that there have been more nine-darters in Aberdeen than at any of the other Premier League venues.
"I would love to add another.  That would be the dream.
"I think the place would go mad if I did that.
"It certainly would be special.
"I have been to watch the Premier League in Aberdeen a few times and they are always great nights.
"I'm delighted to have this opportunity to be part of it and I'm just going to enjoy myself.
"There is no pressure on me as everyone will expect Michael to win as he is the world number one.
"But I have beaten him before and I will be doing my best to give him a game."
Henderson feels his game is in good shape as he heads into his Premier League showdown with world number one van Gerwen, who suffered his first defeat of the competition against James Wade last week.
He said: "I have started off great this year.
"In my first six tournaments and reached four quarter-finals and two second rounds.
"The draw didn't go my way at the UK Open in the weekend (when Henderson was beaten 10-5 by Michael Smith in the fourth round).
"Michael is one of the best in the world when he is on his game.
"I played OK and I was disappointed to lose but my confidence is high.
"Hopefully I can give Michael a game."
Henderson, the world number 21, would love to be one of the 10 players chosen to play on the Premier League Darts in the future and hopes a taste of the action tonight can prove the catalyst for a push to the next level.
He added: "I have spoken to some of the players who have played in the Premier League and they have said it can be tiring doing the full 16 weeks.
"You travel on the Wednesday, play on the Thursday and then travel on the Friday to play on the pro tour on Saturday and Sunday and it is easy to see how that could take its toll.
"But it is something every player wants to a shot of and I'm no different.
"This will also be a great chance for me gain stage experience that will help me in other tournaments.
"I'm going to take that on board.
"I have never played in front of so many people before.
"The Ally Pally and Dublin are noisy venues but I think this will be a different level.
"It will be a new experience but I would love to be there on merit in a couple of years' time."