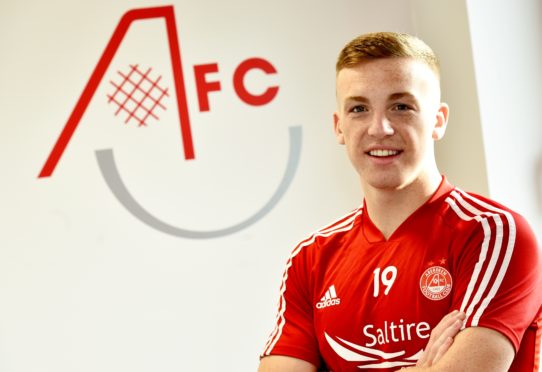 Sam Cosgrove cannot do it all himself.
That message has been championed enough by manager Derek McInnes and Lewis Ferguson insists the players are singing from the same hymn sheet.
Cosgrove has 21 goals in all competitions this season, four times more than any other player in the Aberdeen squad. Niall McGinn is the closest competitor to him with five, while Ryan Hedges and Andy Considine both have four.
Ferguson himself has found the net just twice this season, some way behind the eight he managed in his debut campaign for the Dons. Aberdeen have scored six goals in seven games since the 2-2 draw with Rangers at the start of December, drawing blanks against Hibernian and Motherwell and bagging once against Dumbarton in the Scottish Cup.
Cosgrove has scored three of those six goals and missed two games through suspension. Ferguson knows it is high time others in red eased the burden on their leading striker.
"We have a striker who can't stop scoring but we can't be too reliant on Sam. We have spoken about this among ourselves, it's great having him but we need to help him more. I don't know how it happens, because it's obviously a good thing to have someone scoring goals for fun. But the onus is on everyone.
"Sam has been excellent but when it doesn't go his way then the other players have to step up to the mark. Everyone needs to chip in with goals and spread them around better. We have a huge team in terms of height, we have a lot of big lads and we have to do better from set pieces.
"We need to work goalkeepers more from right across the park, not just the strikers. We need the defenders chipping in and the rest of us in the middle of the park coming up with them too.
"It's about having that creativity and you saw that against Motherwell, we need to be better in the final third."
Aberdeen face St Mirren in Paisley on Sunday, where they were beaten 2-0 in October. Since then, aside from a three-game winning run in October-November, they have not won back-to-back league games, with consistency eluding them during this campaign.
Ferguson said: "We need to get more consistency in our performances. We have been steady but to get that European spot we need to go on a run of four or five games winning. Just winning here and there isn't good enough, that doesn't get you anywhere in this league. So if we want to grab that European spot we need to be getting three points from most games."
Dons supporters vented their frustration after the Motherwell game, which they had failed to force too many saves out of the goalkeeper.
It comes on the back of a disappointing performance against Dumbarton in the Scottish Cup, in which they relied on a late penalty from Cosgrove to advance to the next round.
Ferguson added: "We were the home side and the onus was on us to create and score goals, so when you don't do that the fans are going to be frustrated. They want to see us winning big games so you can understand it, we were frustrated too.
"The only thing we can do now is bounce back against St Mirren and put a smile back on their faces."