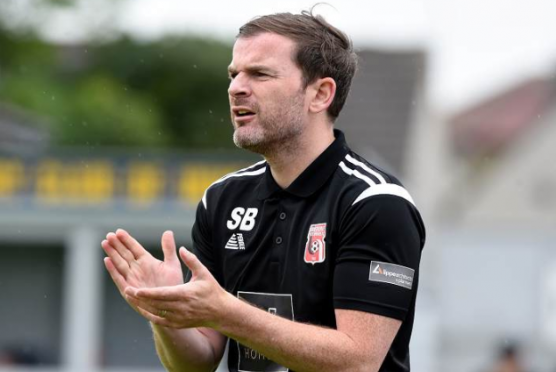 Inverurie Locos manager Scott Buchan resigned last night, blaming the pressure of trying to balance work, family and football life.
The former Locos defender, who celebrates his 41st birthday today, said: "I run my own office equipment company and I'm married with a young family, a boy and a girl. Something had to give as being a part-time manager in Highland League football is anything but part-time, and I reckon every other manager would say exactly the same."
Buchan took sole charge of Locos following the resignation of his co-manager Kenny Coull last August, after the pair succeeded Dave Cormie in 2010. He said: "I threw myself into everything involved in the job but something had to give.
"I have had to try to prioritise a little bit and the end of this year seemed like the ideal time to do it.
"I'm retiring from football completely, but I do think I'm leaving the club in a very good position, both on and off the pitch. It is a young squad and I have no doubt they will do well in the future.
"Chairman Eddie Innes and his team are fantastic to work for, and whoever becomes the next manager has an incredible opportunity."
Buchan spent nearly two decades with Locos and added: "I have loved every minute of it and there hasn't been a down moment at all. Now I am looking forward to just being a supporter.
"I want to give my 11-year-old son Josh some more of my time. He is playing football and came along to all the training sessions and the games with me. He will probably be more disappointed than I am.
"I wasn't able to give him more time when I was Locos' manager, but as I must emphasise I have loved every minute of my time at Harlaw Park. It's incredible the number of really good people I've met through football over the years.
"Locos are a wonderful club and I have a drawer full of medals to prove it.
"I am retiring from football and I won't be going back, but who knows what the future holds? I definitely need to concentrate on other things at the present moment."
Locos are now the third Highland League club looking for a new manager. Huntly co-managers Mark Gray and Doug Baxter and Grant Munro, of Brora Rangers, have all resigned in recent weeks.
Inverurie Locos chairman Eddie Innes has paid tribute to manager Scott Buchan, who has retired from football almost 24 years after making his debut for the Garioch club.
Buchan, who celebrates his 41st birthday today, told the Locos players at training last night of his decision to step down with immediate effect due to pressures of business and family life.
Innes said: "We're all hugely disappointed Scott has decided to call it a day only three months after his co-manager Kenny Coull also decided to step down for similar reasons.
"We totally understand where Scott is coming from as family life and business is the main priority for him now.
"Over the years he has given so much service to this football club, and that should be remembered and he will go down as one of our best.
"He is such a good man to work with, he has approached everything in a business-like manner.
"In all the years we've known each other, I can't remember having a heated discussion with him.
"I would like to think we've had a good working relationship, he's a good man and will be sadly missed by everyone at Locos.
"His family and business is more important and that's what he has to concentrate on now."
Chairman Innes added: "Scott has just told the players of his decision and he is finishing tonight, he is leaving the squad in good shape as in our last 11 games we have won nine, drawn one and lost one so we are the form team of the moment. That's not far off championship-winning form.
"I will ask our assistant-manager Darren Mackie and coach Steven Park to take charge of the team for Saturday's game against Huntly."