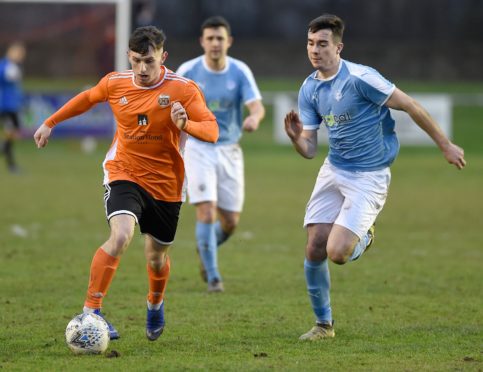 Rothes have brought winger Ali Sutherland back to Mackessack Park on a two-year deal after he left Elgin City.
Sutherland spent a successful spell on loan with the Speysiders last season, during which he netted four goals in 13 appearances.
After returning to Elgin in February, the 22-year-old was hopeful of forcing his way into Gavin Price's side but made just a further five substitute outings for the Borough Briggs outfit.
Although he is disappointed that plan did not work out, Sutherland feels confident he can rekindle the form shown in his previous spell with the Speysiders, who finished 10th in the Highland League last term.
Sutherland said: "I wasn't playing at the start of the season and then went to Rothes on loan, where I got a few months of playing regular football – I really enjoyed my time there.
"I got the option to stay. I thought I might have played a bit at Elgin so I decided to go back, but it wasn't to be.
"It was disappointing to go back and not really play, but hindsight is a great thing.
"If I knew I wasn't going to play I probably would have stayed at Rothes.
"You definitely play your best football when you are playing regularly.
"Hopefully I can get a full season of that and start enjoying it again. It's a good team and a great bunch of boys so we can definitely improve on last season, hopefully I can help the team get up the table a bit."
Rothes manager Steven MacDonald is pleased Sutherland has rejoined, and feels a settled spell of regular football will bring the best out of the former Caley Thistle player.
MacDonald said: "For Ali to improve I think he needs to be settled and really feel wanted.
"You could see the talent he had at Caley Thistle, even as a young boy.
"He was on loan at Brora and never got going, and even last year at Elgin he never got as many starts as he would have liked.
"It's very hard to settle in and feel you can give your best. I think he can benefit from being more settled and feeling part of the club.
"I was very impressed after speaking to him – he is only 22 which is incredible, as when you speak to him he comes across so much more mature.
"That takes us up to 15 signed players now, so we are still going to need a few more in to help the squad."