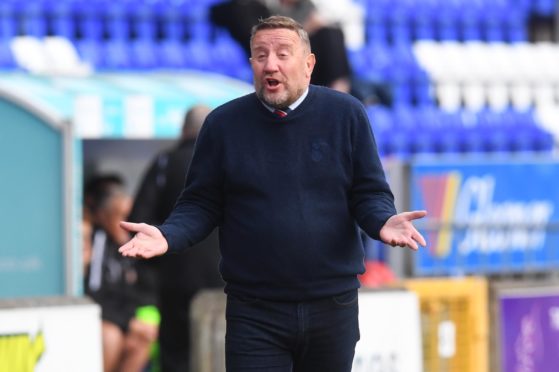 Caley Thistle manager John Robertson will not look back in anger over Inverness' missed opportunity to go top of the Championship.
Inverness squandered the lead late on to draw 2-2 with Alloa Athletic last weekend, on the same day as top two sides Dundee United and Ayr United both lost.
With Caley Jags just a point off the summit at the end of the first quarter, Robertson insists there is no point in dwelling over what more his side could have done.
Robertson said: "It hurt and it was frustrating for 48 hours, but once we got back in on Monday we had a quick debrief and moved on.
"It is annoying for the players, staff and fans but you just had to look at Saturday's results to see what can happen in this league. The two teams above us lost, the two teams below us lost, and we picked up something.
"You can spin it any way you want. We moved a point closer and picked another point up, but there are aspects of frustration in the way we lost the late goal.
"That's the way it's going to be. There will be lots of twists and turns this season and we just have to try to take advantage of those situations when we can."
Robertson expects results to even themselves out over the course of the campaign, adding: "We can look at the fact we should have held on and beaten Alloa, but did we deserve to beat Dunfermline earlier in the season? We ended up with three points in one game and a point in the other, which could easily have gone the other way.
"That point on Saturday might be the difference between winning and not winning the league, while the two point we dropped might be the same.
"This early in the season it's not fatal, but if it was to happen in the last quarter it would be. Two points could make a big difference between winning and not winning the league."
Early pacesetters Dundee United are favoruites to win the Championship title, however Robertson feels the Tannadice side's recent struggles prove it is no foregone conclusion.
Robertson added: "Dundee United started very well, won their first five matches and people thought they were going to run away with the league.
"But they had to score two late goals to beat Arbroath and then they lost to Alloa and Queen of the South. That's what this league does. Every point is a prisoner.
"It has been proven that every team in the league can beat every other team.
"Last year, Ross County got away from the rest by winning the tight games, nicking results 2-1 here or there. Suddenly they had a gap and no-one could bridge it."