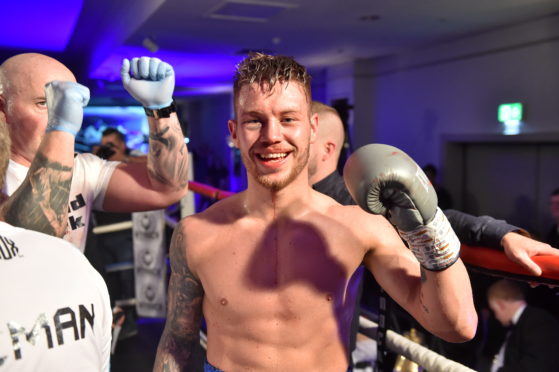 Dean Sutherland hopes sparring with Kell Brook sets him up for a 10th consecutive victory this Saturday.
The Aberdeen fighter travelled to Sheffield for rounds with the former welterweight champion, ahead of his fight against Basi Razaq.
Brook is making a comeback to the ring on Saturday night too, taking on Mark DeLuca for the vacant WBO inter-continental super-welterweight title. When that fight was announced, Sutherland saw DeLuca was a southpaw and spoke to his sparring co-ordinator to put his name forward to Brook's camp.
When word came back from the 33-year-old that he was on board, Sutherland travelled to the Ingle Boxing Gym in Sheffield for valuable experience.
He said: "It worked perfect for both of us. He was looking for a southpaw fighter (to spar with), I was looking for an orthodox fighter. I've come away with great experience and knowledge. The whole trip was a success.
"It was a really enjoyable experience. I went down by myself, in a gym I'd never been in before against a former world champion and someone who could become world champion again.
"To have competitive sparring and enjoy myself makes it a massive benefit to myself."
Sutherland takes on Razaq (8-1-1) at the Lagoon Leisure Centre in Paisley in his first fight of 2020. He hopes it is a year that sees the ex-kickboxing champion catapulted into title contention.
He has a 100 per cent record since turning pro in June 2018 and last year picked up his first title, beating Keane McMahon for the BUI Celtic welterweight title.
Sutherland added: "Before the end of 2020 I want to put myself in title contention, or for eliminators at least. I feel like I'm knocking on the door already.
"A lot of these guys are already pushing late-20s or early-30s – it's supposed to be their prime. They'll have six or seven years ahead of them if they're lucky, whereas I should have years on my side.
"People might say I don't have enough experience or I'm too young. But at the same time, I've been fighting since I was three years old. My fight IQ is right up there.
"I just want another win. It doesn't matter if it's by points or stoppage. He's got a good record and will give me a good test."