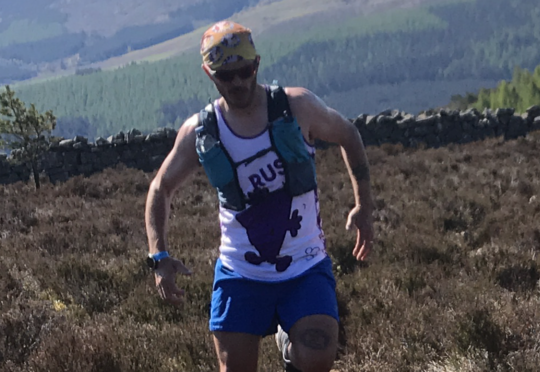 Legendary American ultra- distance runner Dean Karnazes once ran 50 marathons in 50 different states on 50 consecutive days.
When Aberdeenshire athlete Ally Sutherland read about this remarkable achievement, he was inspired to undertake a similar challenge, albeit without leaving his local area.
And once the dust settled, the Cosmic Hillbashers club member had gone one better than Karnazes.
Sutherland ran 49 marathons on 49 consecutive days, then – on day 50 – he topped it off by doing a double marathon.
The 42-year-old actually ran farther than the marathon distance of 26 miles 385 yards on a number of occasions, sometimes adding on another mile or two. In all, he covered 1,420 miles, running from his home near Daviot on loops which frequently took in the upper reaches of Bennachie, climbing more than 32,000ft over the seven weeks.
Sutherland said: "At the start of lockdown my enthusiasm dropped a little and I needed something to fire up my motivation. I had read Karnazes' book and was totally blown away by what he did. I didn't think the human body was capable of those sorts of things.
"The more I thought about it, the more I became convinced I wanted to give it a go. I'd been furloughed from my job, so there was no excuse. It was an opportunity I couldn't let slip. My wife Kay and my sons Danny and Kyle gave me great support."
Sutherland has been running, on and off, for more than 20 years and had previously completed 10 marathons in 10 days, but this was a step up to another level of human endurance.
He said: "I never doubted I could complete it. I've never failed to finish a race, so I believed I had the mental strength to get through it. But I won't lie, there were some tough days.
"Bennachie is about five miles from my house, so to begin with I was running up there, to all the tops and on the roads and trails around it.
"But it was fairly taxing and, by day 14, I was beginning to pay the price for too much up and down running. After that I had to alter my routes and stay on some of the lower sections.
"I had a bit of a sore heel at that stage, but otherwise, physically, I felt in good shape, although mentally it was hard to get going some days.
"I decided to do the double marathon on the final day just to finish with a flourish. I wanted to look back and feel I'd achieved something worthwhile during lockdown. I should maybe let Dean Karnazes know I did one more marathon than him."
No let-up as ultra man maps out agenda
Ultra-distance specialist Ally Sutherland is already looking ahead to 2021 when he hopes to reap the benefits of all the hard running he has done over the past few months.
There is no prospect of any big ultra-distance races returning to the fixture list in the near future, so Sutherland has mapped out a bumper series of challenges.
Despite running 51 marathons in 50 days, Sutherland completed the 95-mile West Highland Way run from Milngavie to Fort William just a week later after organisers offered runners the chance to compete virtually after the race's cancellation.
He said: "I had a couple of days off, then over the next three days I ran six miles, 24 miles and 13 miles, before taking another two days off before the virtual race.
"The first day was fine, but after that it was tough, but I was determined to do it. I was happy with my time."
The real West Highland Way race tops the bill for next year – but he has others in mind, too.
He said: "I want to do the Centurion Grand Slam. That's four 100-mile races held between April and October in England.
"These are the Thames Path 100 in April, the South Downs Way 100 in June, the North Downs Way 100 in August and the Autumn 100 at Goring near Reading in October.
"The first three are all point-to-point races, which I really enjoy. It's good to be going on a journey when doing these races.
"The final one, at Goring, is different. You start at one point run out for 12.5 miles then come back, then head off in a different direction for another 12.5 miles and back, and so on. I'm not so keen on that.
"I did the South Downs Way last year and enjoyed it. That's why I want to do the Grand Slam in 2021."