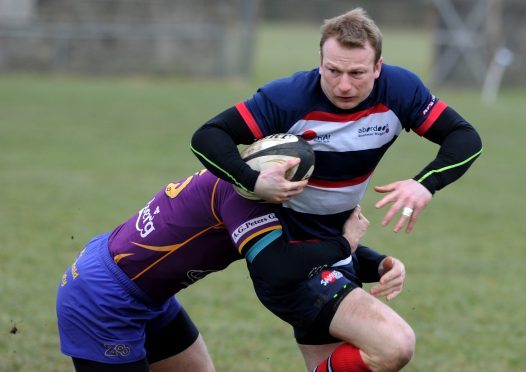 Aberdeen Grammar winger Grant Walker wants five points and a big show of support for former Scottish rugby international Doddie Weir when his side hosts Kelso tomorrow.
Grammar will support Weir, who earned 61 caps for Scotland as well as representing the British and Irish Lions, by raising funds for the Euan Macdonald Centre at Rubislaw.
A silent auction for Scottish rugby memorabilia, entertainment from Rubislaw Pipe Band and Aberdeen University cheerleaders as well as a showcase of local youth rugby will support the National 1 fixture.
Money raised will go towards the charity which was highlighted following Weir's announcement he has motor neurone disease this year.
Walker said: "Doddie is a huge figure in Scottish rugby and both he and his famous tartan suits have been at every club in the country in some shape or form.
"We're doing our bit to support him and we want to make the game a cup final occasion. He has done so much for the game up here and hopefully we can make it a day to remember by putting on a show, winning the game, collecting five points and help raise a lot of money for him in the process."
Walker will make his first appearance of the season following a six-week absence due to a head knock suffered in pre-season.
He said: "I'm glad to have been given the all-clear at last. It's usually a couple of weeks but there are tests which need to be done to show I'm symptom-free and I couldn't quite get there to get the go-ahead to play again.
"Thankfully, I'm fine now and I'm grateful to the medical team for its support and treatment. We're all hugely conscious of concussion-related injuries these days and it was important I was back to 100% before playing again."
Walker's return comes at a good time for his club after a disappointing start to the campaign.
Grammar were eliminated from the National Cup before losing their two opening league games and Walker is eager to get a first win.
He said: "We need to get up and running. It's been a frustrating start as we really wanted to kick on this season. The players put in a good shift against Gala but last week at Selkirk was frustrating. Those games are gone now and our focus is firmly on Kelso. This is a big game and we really need to win it."