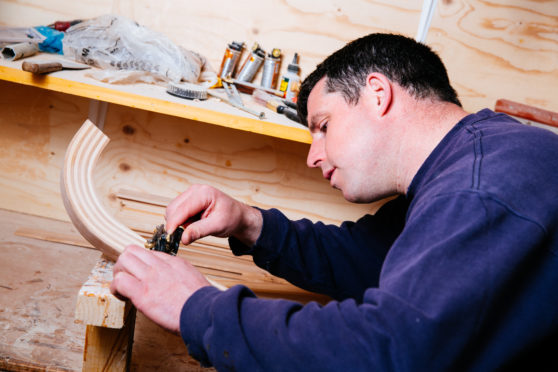 The ancient art of making shinty sticks – or camans – in Scotland is under threat of dying out.
The Heritage Crafts Association has added the tradition on its "Red List of Endangered Crafts" – claiming it is on the verge of extinction.
And revered shinty historian Hugh Dan MacLennan fears the sport itself is at risk if the making of camans dies out within the next generation.
Alan MacPherson, 37, who runs Inverness-based Tanera Camans, is the largest of just three makers left in the Highlands, producing more than 80% of the sticks required for clubs across the country each season.
He said: "I think it is a good thing to be added to the red list as it raises awareness about the seriousness of the situation in Scotland.
"I make 1,400 a year and it can get very busy."
Because it is a time-consuming craft, Alan makes very little profit from each stick – but while thinking about increasing the fees he also says the sport remains amateur and many clubs' funding can be stretched.
He said: "I really do it for the love of the sport. I grew up playing shinty with Lovat at the age of 12 and started fixing their sticks."
The joiner added that he considered taking on an apprentice to train and continue the craft into the future. But he has so far had no success in winning any external funding to assist in the venture.
Hugh Dan MacLennan said: "Alan is basically supplying the shinty world in Scotland with most of the sticks required.
"The trade is seriously at risk of dying out, and that puts the sport itself at risk. Now that it has been given this red list status perhaps it will focus attention on the issue and attract some investment."
Inverness councillor Duncan MacPherson said: "The sport of shinty is facing a potential crisis if the unique craftsmanship is not invested in.
"Alan is struggling against the odds to keep a Scottish and Highland tradition alive for the next generation.
"If Alan made a hard-nosed business decision then he would probably stop making the labour-intensive camans and devote his time to more cost-effective joinery projects.
"But he does it for the love of the sport.
"Hopefully people who appreciate Scotland's heritage will realise that the true cost to produce a single shinty stick or 'caman' barely covers the cost of materials and the many hours of labour, far less, be able to combine with making a living wage for the craftsman.
"Hopefully we can prolong a Scottish tradition dating back hundreds of years."
Daniel Carpenter, of Heritage Crafts Association, said: "The red list is vital in drawing our attention to parts of our shared cultural heritage we are at greatest risk of losing."
A total of 16 new crafts have been added to the 'critically endangered' category by the Heritage Crafts Association including Fair Isle straw-backed chair making and kishie basket making.
The others are:
Basketwork furniture making
Damask weaving
Hat plaiting
Maille making
Millwrighting
Orrery making
Commercial paper making
Industrial pottery
Reverse glass sign painting
Shinty caman making
Spinning wheel making
Wainwrighting
Watch face enamelling
Withy pot making
Other crafts upgraded to critical from endangered are:
Bell founding
Flute making
Scissor making
Sieve and riddle making
Tinsmithing
Watchmaking
Others considered endangered are:
Bee skep making
Carpet and rug tufting
Cutlery making and tableware
Falconry furniture making
Free reed instrument making
Gansey knitting
Glove making
Keyboard instrument making
Marbling
Side saddlery
Smocking
Straw working
Surgical instrument making
Umbrella making
Whip making