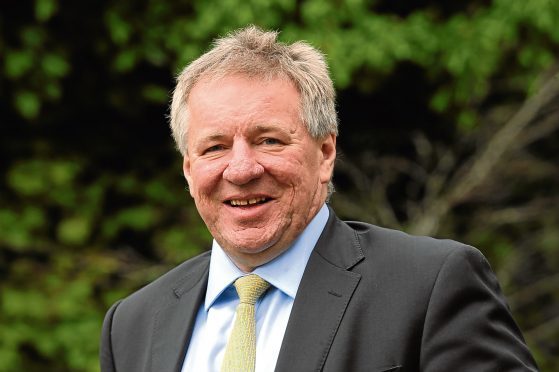 I felt honoured to be ranked among the world's 100 best-performing chief executives in the annual list published by Harvard Business Review, covering 2016.
Since a CEO is only as good as the team around him, I regard it as a well-deserved tribute to the great people who have helped build Aberdeen.
It's an achievement to come third among UK firms and second among global asset management companies, after Larry Fink at Blackrock.
From being a mere start-up in 1983, it's amazing Aberdeen Asset Management is listed among so many incredible multinationals.
As the compiling of the annual list is a very transparent process it offers useful insights into what Harvard Business Review thinks makes a good CEO.
Since 2015 the list has incorporated environmental, social and governance factors into its assessment, accounting for 20% of each CEO's rating – an important acknowledgement of the values of inclusive capitalism.
What makes a good CEO? A recent article by researchers in Harvard Business Review refined the key qualifications down to four fundamental behaviours, though it's unlikely any CEO will perform equally well in all categories.
The first is the ability to make decisions with speed and conviction. An indecisive CEO becomes a bottleneck and, therefore, a menace to his organisation.
It's not about going off at half-cock, inadequately informed; it's about quickly evaluating as much data as is available and making a firm decision.
As CEO, the final decision always comes down to you. You've got to go with your instinct – it counts for a lot.
So does confidence; you've got to have the confidence you can make it work.
I remember in 2005, when we were buying the great Morgan Grenfell asset manager, twice the size of Aberdeen, I sat and asked myself "can I do this?"
Then I went for it, just saying to my colleagues: "Let's do it." We had done our homework and knew the business. The buck stops with me.
The second behaviour identified by researchers is engaging for impact. For me, this is about teamwork and supporting the team in the execution of a decision.
You have to get colleagues on board. You can't delegate your authority but "here's what I'm thinking" is a better engagement strategy than behaving like an autocrat.
A CEO has to communicate clearly his vision and intentions to all the people working with him; it's what my hero, legendary football
manager Sir Alex Ferguson called "owning the message".
Another thing I learned from Sir Alex is to treat every member of the team differently because they are all highly talented individuals who can be vulnerable when facing challenges – that's when you've got to be very supportive.
The third behaviour is adapting proactively to change. Asked what distinguishes effective CEOs, Dominic Barton, global managing partner of McKinsey and Company, replied: "It's dealing with situations that are not in the playbook."
Today, the changes confronting the financial services industry range from Brexit to the prospect of disruption from tech companies entering the industry.
What Uber did to cab companies and Amazon did to bookselling could happen to asset management if companies like Google or other tech giants enter the arena, as recently forecast by macro-economic analyst Jonathan Wilmot.
Steve Jobs, co-founder of Apple, said: "Innovation distinguishes between a leader and a follower."
A good CEO will initiate innovation ahead of any challenge. In the future, fund managers will need to use data science and machine learning as part of their input – though nothing can replace human leadership.
The fourth behaviour is delivering reliably. CEOs need to perform consistently and the Harvard list shows the best of them do; two of this year's top three CEOs were among the top three a year ago and 72 of last year's top 100 have repeated their success.
The key factor in CEOs' consistent high performance is surrounding themselves with a strong team.
I now share the mantle of CEO with Keith Skeoch, who has led Standard Life and Standard Life Investments for 13 years and is someone that I've known and admired for a long time.
Having two CEOs makes sense for a company of the scale of Standard Life Aberdeen.
We both bring our own skills and knowledge of the companies that we've led to this joint role and are very clear about what we can achieve.
Ultimately, the success of the merger between Aberdeen and Standard Life rests with us and that's exactly the way it should be.
Creativity/design
Crossing the Tay Bridge on my way to Aberdeen recently I couldn't help but marvel at the new Victoria and Albert Museum currently under construction as part of the wider renovation of Dundee's waterfront.
Drawing comparisons with a Star Wars spacecraft, the project manager has promoted
the development as a sculpture as well as a building. It is one of many recent achievements in design that Scotland can be very proud
of.
The City of Glasgow College's City campus was among 49 "exemplary projects" honoured in the 2017 Riba (Royal Institute of British Architects) Awards.
Being part of this prestigious winning group puts City campus in the pool of projects competing for this year's RIBA Stirling Prize for the UK's best building of the year.
Closer to home, we shouldn't forget Aberdeen is home to some pretty innovative buildings that capture the imagination.
Perhaps I'm biased given my role as senior governor of Aberdeen University, but it's very hard not to be impressed by the multiple award-winning Sir Duncan Rice Library which dominates the skyline to the north of the city and is a wonderfully impressive building.
Looking ahead, the new Aberdeen Exhibition and Conference Centre at Bucksburn is taking shape and certainly appears to be an intriguing development.
It was designed following discussions and input from industry experts and learning from similar facilities such as the Hydro, in Glasgow, which was recently ranked as the world's second-busiest live entertainment arena.
As we continue to support the renaissance of the north east economy, it is encouraging that design and architecture is being considered as part of this vital process.