British Airways owner International Airlines Group (IAG) is exploring a potential acquisition of low-cost carrier Norwegian Air Shuttle.
IAG said in a stock market announcement that it has acquired a 4.61% stake in the airline, which is "intended to establish a position from which to initiate discussions with Norwegian", including the possibility of a full offer for the firm.
A deal to acquire the fast-growing budget carrier would see IAG fork out an estimated £2.5 billion, which includes Norwegian's £2 billion debt pile.
The group added: "IAG confirms that no such discussions have taken place to date, that it has taken no decision to make an offer at this time and that there is no certainty that any such decision will be made.
"A further announcement will be made if appropriate."
Norwegian Air has expanded rapidly over the last 12 months, ordering several aircraft to serve a raft of new routes.
The firm has shaken up the long-haul market by offering flights at knockdown prices.
Some of its most popular deals have included £99 flights from Edinburgh and Dublin to New York.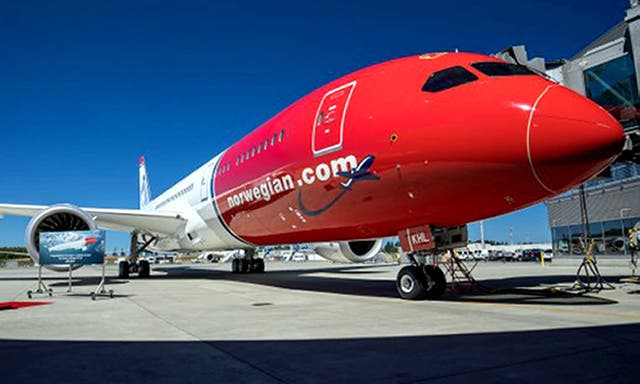 The firm said in response to the news: "Norwegian has just been made aware that the International Airlines Group (IAG) has acquired 4.6% of the shares in Norwegian Air Shuttle.
"Norwegian had no prior knowledge of this acquisition before it was reported by the media mid-morning Thursday.
"Norwegian has not been in any discussions or dialogue with IAG about the matter.
"Norwegian believes that IAG's interest in the company confirms the sustainability and potential of our business model and global growth."
As well as British Airways, Irish carrier Aer Lingus and Iberia, IAG also owns Spanish low-cost airline Vueling and recently launched a budget long-haul operator dubbed Level.
IAG has been stepping up its position in the low-cost long-haul market as it looks to fend off fierce competition in the sector.
Shares in Norwegian Air rocketed nearly 40% in Oslo following news of IAG's interest. IAG shares were flat.
Norwegian Air carries over 30 million passengers a year, including 5.2 million from the UK, and last year struck an agreement that allows easyJet customers to access its long-haul routes.
It has also previously explored a long-haul flight deal with Ryanair, but talks between the airlines collapsed.
Shares in budget rivals easyJet, Ryanair and Wizz Air were boosted off the back of the news.
Jasper Lawler, head of research at London Capital Group, said: "Investors questioned the merits of a possible merger but recognised it could be a boon for other budget airlines.
"For one, shareholders may be reticent to approve another deal so soon after acquiring Aer Lingus.
"And two, it is an upfront cost to IAG that could otherwise be spent improving customer experience.
"If one assumes IAG will lift the fares and cut routes operated by Norwegian, then it reduces competition for the likes of easyJet, Ryanair and Wizz Air."