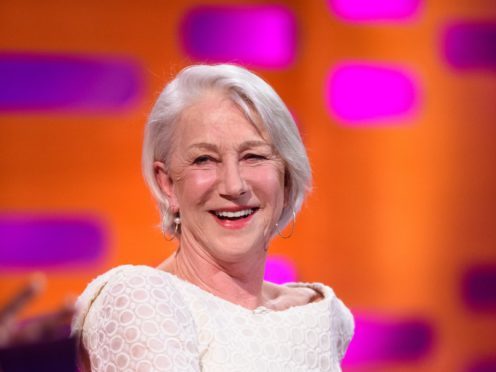 Dame Helen Mirren and James Corden attempt to swat away mosquitoes in a new video aimed at fighting malaria.
Tennis star Andy Murray, actress Brenda Blethyn, comedian John Bishop, boxer David Haye and singer Yemi Alade are also in the film.
Corden is bothered by a persistent mosquito in the campaign video, Mozzie Bites.
The video ends with the message that, while mosquitoes are seen as irritating for many, they can be deadly for millions around the world.
The campaign, Malaria Must Die, So Millions Can Live, calls on leaders to "unite and fight" malaria ahead of the Commonwealth Heads of Government Meeting in London in April.
Twice Wimbledon tennis champion Murray said: "There's been impressive progress in the fight to beat malaria – commitment and persistence deliver results.
"But a child still dies every two minutes from this preventable disease and, as a dad, this really hits home."
Murray, who is a member of Malaria No More UK's leadership council, added: "I'm asking Commonwealth leaders to seize the extraordinary opportunity to smash malaria when they meet in London in April."
Actress Blethyn said: "For most of us, mozzie bites are an annoying part of a trip abroad. But for millions around the world, a single mozzie bite can lead to death.
"The sad fact is malaria is still rife across Africa and one of the world's biggest, preventable killers of young children."
James Whiting, executive director of Malaria No More UK, said: "Despite best efforts to end malaria and huge progress in recent years, we're at a risk of losing hard-won gains due to plateauing funding, growing drug resistance and declining political will.
"But there's a chance in three weeks for Theresa May and other leaders to use a rejuvenated Commonwealth to put the world on a faster path towards a malaria-free world."
The campaign says malaria claims 445,000 lives a year – more than half of these deaths in Commonwealth countries.