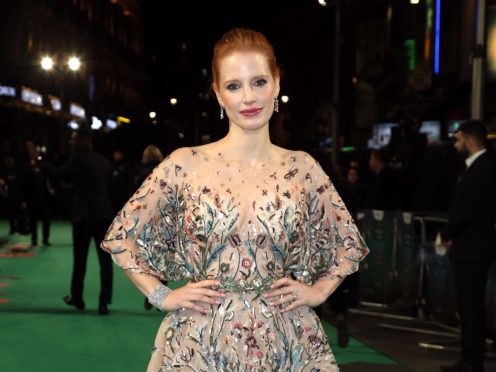 Jessica Chastain has said "consent must be given" after comedian Bill Cosby was convicted of drugging and sexually assaulting a woman.
The US actress has been a vocal advocate of the Me Too and Time's Up movements in the wake of the sexual misconduct allegations made against producer Harvey Weinstein.
After Cosby was convicted of three counts of aggravated indecent assault, Chastain wrote on Twitter: "Just because you're rich and powerful doesn't mean another person's body is automatically available for sex. Consent must be given."
She added: "For anyone confused, here are some examples of when CONSENT IS NOT GIVEN," alongside a list of situations in which consent is absent.
It reads: "Where the agreement is expressed by the words or conduct of a person other than the complainant.
"Where the complainant is incapable of consenting to the activity.
"Where the accused induces the complainant to engage in the activity by abusing a position of trust, power or authority.
"Where the complainant expresses by words or conduct, a lack of agreement to engage in the activity or where the complainant, having consented to engage in the sexual activity, expresses, by words or conduct, a lack of agreement to continue to engage in the activity."
Dozens of women have come forward in recent years to say Cosby drugged and assaulted them.
Five of the other accusers testified against him at the retrial.
Rose McGowan, who is one of Weinstein's accusers, also spoke out about the verdict, writing on Twitter: "Cosby is guilty. I'm sorry if you loved a lie.
"His victims can now exhale. Thank you judge and jury. Thank you society for waking up."
She added: "Profoundly happy that Cosby's victims, his survivors, are shedding tears of relief today."
Patricia Arquette added: "The state of America is this- Even with dozens of accusers we were all afraid Bill Cosby would walk."
Lawyer Gloria Allred, who represented Cosby's accusers, wrote on Twitter: "Justice has been done," while her daughter Lisa Bloom added: "My fighter mama @GloriaAllred represents 33 Bill Cosby accusers, and 3 who testified. She was attacked and smeared by the defense throughout the trial.
"I knew that would backfire. Three cheers for you, Mom, and your relentless insistence on justice for women."
Cosby could get up to 10 years in prison on each of the counts.