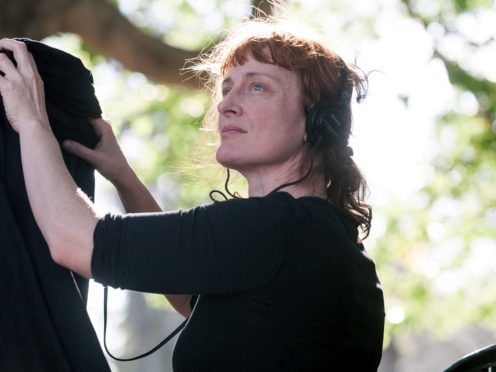 The upcoming Venice Film Festival has come under fire for its competition line-up, with only one female director in the running.
Jennifer Kent's The Nightingale is the only competition entry directed by a woman on the 21-strong list, which includes Damien Chazelle's First Man, which will open the festival on August 29, Mike Leigh's Peterloo and Paul Greengrass's 22 July.
Australian director Kent is best known for her work on horror film The Babadook.
There are also new films from the Coen brothers, Alfonso Cuaron, Yorgos Lanthimos and Luca Guadagnino on the bill.
Out of 60 entries in the official selection for the festival, only eight are helmed by a female filmmaker.
Australian director Briony Kidd said the "seriously depressing" list shows how little things have changed.
Melissa Silverstein, the founder of Women And Hollywood, which advocates for gender equality in the industry, wrote on Twitter: "Venice Film Festival unveils lineup. In competition – 21 films. Only ONE film from a female director. Speechless."
She added: "So at the press conference for #Venezia75 there was a question asked about the lack of female directors. The festival director, Alberto Barbera said 'We don't look at film saying 'who made this?' We look at the film. It's form of maximum respect where best films win.'
"Paolo Baratta. President of the festival said: '21% of submissions were female which reveals that a problem exists. The problem exists but where does it exist? We need to make sure that women have the tools and opportunity to make films.'
"So let's unpack this a bit. 1- They are years behind everyone else. This is not something they ever want to address but in the culture right now they have no choice.
"2- There are Italian women who are working on this issue and they should have said – we will work with the women.
"3- If they want to see change (which we are not sure they do since every year they dismiss women) then they should sign the parity pledge like @Festival_Cannes.
"The pledge was created to push people in the right direction. To be transparent. To figure out why women don't get the same opportunities.
"4- They say that only 21% of the films submitted were directed by women. That lineup is fully curated. Everyone knows that.
"Sign the pledge so there is transparency of submissions. So that we know who curates. What all these folks don't understand is that this is not going away. This push for parity will continue to gain momentum as women are continually marginalized."
Screenwriter Kate Muir also expressed disappointment at the lack of inclusion, writing on Twitter: "A fantastic slate of films at Venice – but where are all the women? Only Jennifer Kent's The Nightingale in competition #TimesUp."
F-Rated, which champions women in film, wrote: "Slow clap, eye roll for #Venezia75 who have managed to select (for the three competitions), wait for it… 8 films directed by women and 52 by men.
"Oh well played. Very 2018. NOT."
On Tuesday, the festival's independently run Venice Days section unveiled its line-up, in which six of the 12 titles in the official selection are directed by women.
Venice Days will run concurrently with the Venice Film Festival from August 29 to September 8.
A representative for the festival has been contacted for comment.