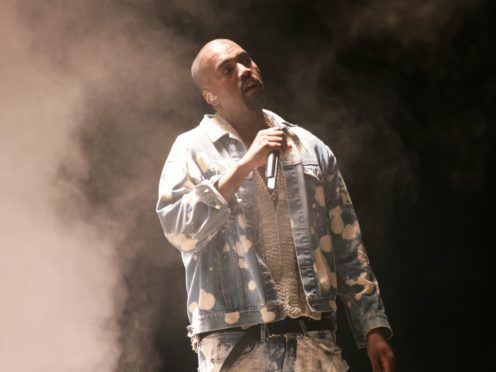 Kanye West has shared text messages that appear to be from singer John Legend, asking him to reconsider his endorsement of Donald Trump.
The rapper has been prolific on Twitter recently, and referred to the US president as his "brother" in one message.
The screenshot of the text message reads: "Hey it's JL. I hope you'll reconsider aligning yourself with Trump.
"You're way too powerful and influential to endorse who he is and what he stands for.
"As you know, what you say really means something to your fans.
"They are loyal to you and respect your opinion. So many people who love you feel so betrayed right now because they know the harm that Trump's policies cause, especially to people of colour.
"Don't let this be part of your legacy. You're the greatest artist of our generation."
West replied: "I love you John and I appreciate your thoughts. You bringing up my fans or my legacy is a tactic based on fear used to manipulate my free thought."
After West posted the first screenshot online, he shared another set of messages apparently from the singer, which said: "Think freely. Think with empathy and context too.
"Your words and actions have consequences. Much love.
"And since you're posting texts, let me add that I have a new single out haha."
West wrote on Twitter: "I tweeted the John text to show that there are people around me that disagree with me and voice their opinion. I respect everyone's opinion but I stand my ground."
He added: "I really appreciate this dialogue with John Legend because I'm actually very empathetic. I'm still the kid from the telethon. I feel when people think of MAGA they don't think of empathy."
In response to the text from Legend, he also tweeted: "John Legend new single on line now."
Legend's wife, Chrissy Teigen, also weighed in, with West sharing the text messages on Twitter, writing: "Everyone keeps asking me to comment on shit. Comment on psycho Tami Lasagna, whom I refuse to give the joy to, say something about RHOA, speak up about kanye.
"When it comes to people we know, we DO speak up. To THEM. not on Twitter. And sometimes, I guess it makes it to Twitter."
She also shared one of West's tweets, featuring a screenshot of the text messages, writing: "This is the most elaborate and complex google pixel phone ad I have ever seen."
The tweet refers to the fact West's message is in a green text bubble, rather than the blue bubble that would indicate it was sent using Apple's iMessage.