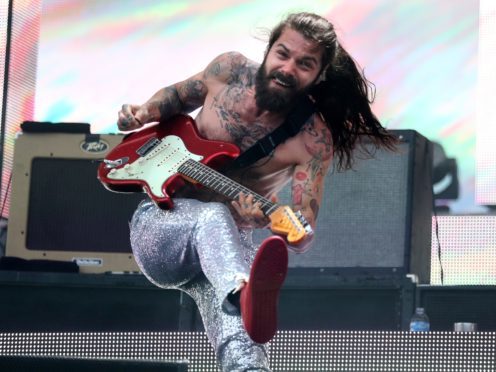 Biffy Clyro frontman Simon Neil has called for young guitarists to embrace their "youthful arrogance" as he was declared the most inspirational guitar figure of the year.
The Scottish musician will be presented with the inaugural Fender Play Award – celebrating his impact as an artist at the forefront of guitar music today – at the Q Awards.
Neil, who has played with his award-winning band for nearly 20 years, said it "meant a lot" to be honoured by the US guitar giant.
Ahead of the awards ceremony at Camden's Roundhouse on October 17, Neil called for budding musicians to refuse to compromise.
He added he hoped his band – known for hits including The Captain, Black Chandelier and Opposite – had shown young musicians that groups can be successful without caving in to pressure from the industry.
Neil told the Press Association: "If anyone takes anything away from our band then I really hope it's that single mindedness.
"Before we were signed, labels would come to us in Scotland and say: 'Change your name. Your name's f***ing stupid.'
"I know that. We always knew our name was strange. Maybe it was a bit of youthful arrogance but we were like: 'No we are not changing our name'.
"When I look back now, thank f*** we didn't. Suddenly you make one compromise and then they are telling you you need to write a song differently.
"All we've ever wanted to be was honest and I know that sounds a bit un-rock and roll but that's all you have to cling on to."
Biffy Clyro, who were nominated for the Mercury Prize in 2010 for their album Only Revolutions, are currently on an acoustic tour with MTV Unplugged.
Neil cites Nirvana's 1994 MTV Unplugged in New York, recorded five months before lead singer Kurt Cobain's death, as a major reason he picked up a guitar.
He said: "For and most kids who came of age in the 1990s it was Nirvana. I really loved Guns N' Roses but their kind of alien look was unrelatable.
"Nirvana was inspiring and relatable, and the fact they were from a small town on the west coast of the States. It was rainy, grey, not at all glamorous and yet the whole world ended up looking to Seattle that year.
"I feel like growing up on the west coast in Scotland with the drizzly weather, it made me realises I could play guitar. I just remember my 11-year-old mind being blown.
"Honestly, it gave you permission to just pick up a guitar and scream your f***ing head off. That to me was the most inspiring thing they could have done."
Ted Kessler, editor of Q Magazine, said of Neil's accolade: "We're very excited that Simon is the first recipient of our inaugural Fender Play award, a prize that will be reserved for only the most trailblazing talents in modern guitar music."