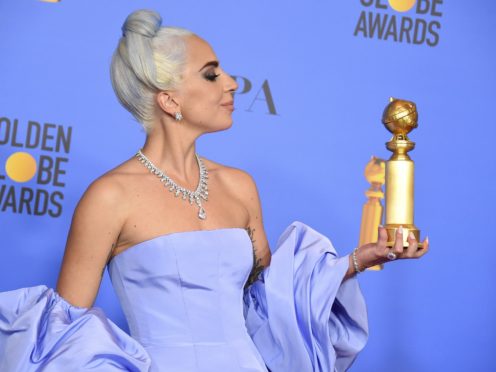 Lady Gaga paid tribute to her A Star Is Born co-star Bradley Cooper as she picked up a best song Golden Globe.
Taylor Swift made a surprise appearance on stage alongside Idris Elba to hand Gaga the prize, in recognition of the track Shallow.
Gaga gave Cooper, who also directed the film, a hug before taking to the stage where she held back tears as she stood alongside songwriters Mark Ronson, Anthony Rossomando and Andrew Wyatt.
She said: "I just have to say, as a woman in music, it is really hard to be taken seriously as a musician and a songwriter. These three incredible men… they lifted me up and supported me. Bradley, I love you."
Speaking backstage shortly after receiving the award, Gaga again praised Cooper.
She said: "He was incredible as a director and I loved working with him, he made me a better actress. But what we are really excited to be on this stage for is how much he believed in this song as a vehicle for story telling in this film.
"We were talking about how this song is really counter-culture in a lot of ways, it doesn't really fit into what you would think of as a commercial song. And as people connected to it and that means a lot to us."
Shallow won best song ahead of All The Stars from Black Panther, Requiem For A Private War from A Private War, Revelation from Boy Erased and Girl In The Movies from Dumplin'.
Speaking about Gaga, Ronson said: "When you're working with this – I hesitate to use the word genius but every time we were in a room she starts with an idea – she's the master chef."