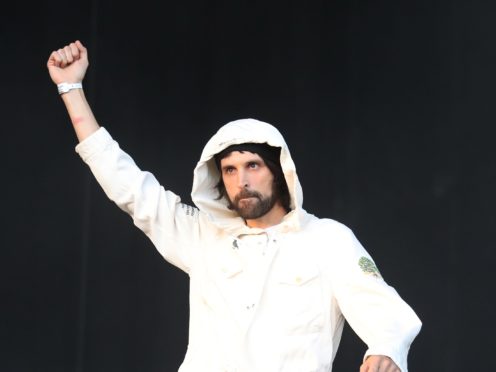 Kasabian guitarist Serge Pizzorno has said he lost sight of his art and descended into "complete and utter excess" during the band's mid-2000s heyday.
The Leicester rocker, who had a string of hits with songs including Underdog and Fire, developed a reputation for hedonism after the band broke through with their 2006 album Empire.
Pizzorno, 38, said he had "strayed from the path" and forgot "that making the art is the important thing".
However, he added that he would change little about those years.
Writing in The Big Issue's Letter To My Younger Self, he said: "If I could go back and give myself advice… I suppose in the mid-2000s I sort of strayed from the path of knowing that making the art is the important thing.
"There were a few years of complete and utter excess. But I defy anyone at that age not to… destroy themselves in some way.
"So there's half a feeling of telling my younger self, you might want to think about that period.
"And half a feeling of, that was kind of incredible. If you're an artist and you're an explorer maybe you have to go to these places. So I don't know if I'd change it, I really don't know."
Pizzorno is preparing to release his debut solo project, under the alias The SLP, on September 6.
He said that if his younger self knew he would one day headline Glastonbury Festival "his head would explode".
"It would amaze the 16-year-old me that he got to make more than one album," he said.
"That was the dream, just that. I suppose if I told him that one day he'd headline Glastonbury, his head would explode.
"But then again, thinking about him now, he'd probably just say, yeah, of course I'm gonna do that. He was innocent, full of that f**king mental attitude."
The full interview is in the new edition of The Big Issue, out now.