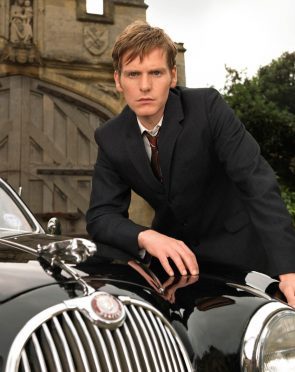 Shaun Evans has said he feels "lucky" to have bagged his role in Endeavour and is hopeful the crime drama's run will continue.
The actor plays DS Endeavour Morse in the ITV programme, a spin-off from Inspector Morse.
The fifth season is set to air in February and Evans said it "definitely sets up more for a return".
"There are lots of questions to answer, but there are lots of factors involved so you just take this job one day at a time," he said.
"I've been very lucky to play this role. I'm amazed we've done so many so far.
"I feel very grateful that Endeavour is still popular and doing well. I'm also very grateful to have the opportunity to work with some incredible people."
The new series includes six feature-length films and the actor said everybody involved brought their "top game" so the quality has remained high.
"That, in itself, is cause for celebration," he said.
"If we're lucky enough to do some more, and we all want to, that's great. But, if not, we're all very proud of the series."
The forthcoming series sees the force facing some changes.
Evans said: "There is a sense of endings and new beginnings.
"We're now in 1968 and Oxford City Police is going to be amalgamated as part of Thames Valley Police. So Cowley Police station, as we know it, is threatened with closure when all of the officers would go off in separate directions.
"There are also changes in the wider world, 1968 was such a fertile year for that. There are so many relevances to today as well."
Morse will also be looking for love, although he still has feelings for former romantic interest Joan Thursday.
Evans hinted that there would be a few intimate scenes, but added: "This is a family show going out at eight or nine on a Sunday night, so you are not going to be rolling around with your kit off!"
Endeavour returns to ITV on February 4.