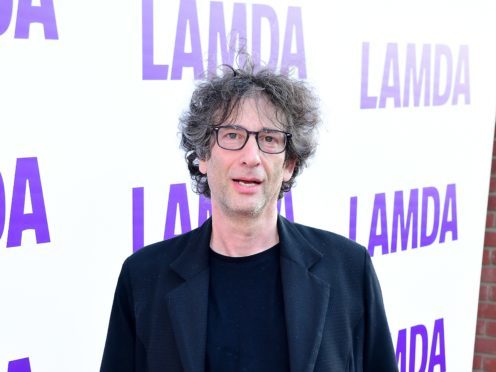 Author Neil Gaiman has said he viewed turning the book he co-authored with Sir Terry Pratchett into a TV series as a "last request" from the Discworld creator before he died.
The pair collaborated on the 1990 novel Good Omens, which is now being made into an Amazon series starring David Tennant and Michael Sheen.
Sir Terry died in 2015 following a battle with Alzheimer's.
Gaiman, appearing alongside the cast of Good Omens during the Prime Video Presents event in London, said: "It came out and rapidly became a cult book, the kind of book people would show up (with) at signings and it had been read to death, dropped in the soup, held together with Sellotape.
"Then we spent many years failing to get it made as a movie. Terry Gilliam was determined but failed and finally Terry (Pratchett) and I thought, 'Let's make a TV series', went out and began looking for somebody to do the adaptation. We knew it wouldn't be us because we were far too busy.
"Then in the summer of 2014 Terry (Pratchett), who had serious Alzheimer's, he was very compos mentis but it was tragic and awful, he wrote me a letter saying: 'You have to do this because I want to watch it before the lights go out. You have the passion of the old girl that I have.'
"Then he died, which made it a last request, so I spent 18 months writing six scripts, reinventing it as television while trying to stay faithful, because we have tens of millions of people who would murder me if it's not, but I wanted surprises.
"One of the things people responded to is, it's a book that believes in humanity, a book about friendship, particularly the friendship between an angel and a demon who have been on earth too long."
Tennant will play a demon called Crowley, while Sheen plays the angel Aziraphale.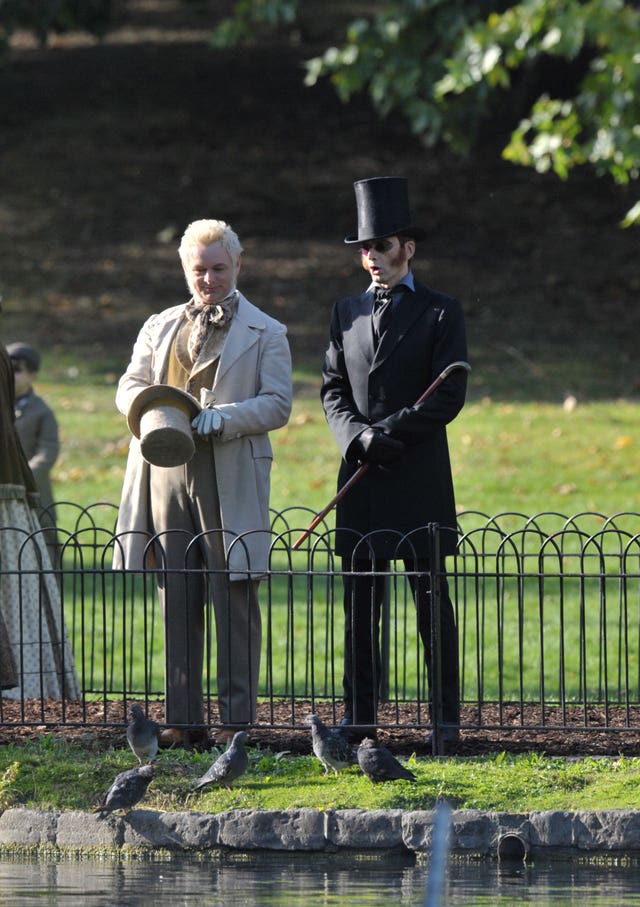 Speaking about starring opposite former Doctor Who star Tennant, Sheen said: "My biggest problem when we were filming and I would genuinely be going between: 'Oh you're really good' to 'I think I love you.'
"I was never quite sure where the character ended."
Tennant added: "Most of our stuff is with each other. We spend a lot of time on park benches, so when you start on what was a long shoot, we had never worked together, what if we rub up against each other?
"But we found a rhythm quickly and if you've got someone you feel safe to play with and these characters that feel new and also recognisable, that comes from the writing.
"And you know what this unique world is straight away, it was a joy."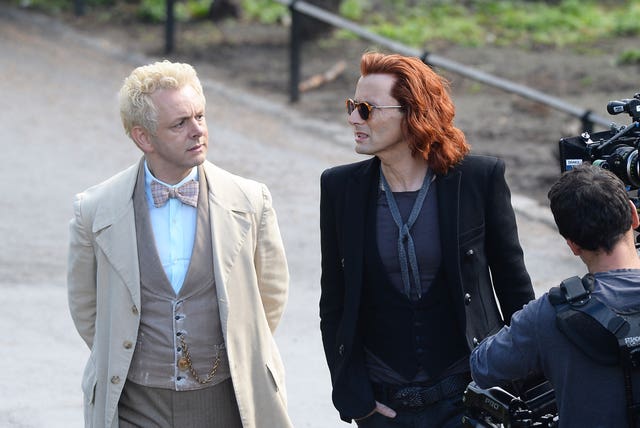 Jon Hamm, who also stars in the show as the Archangel Gabriel, said: "I had read the book some time ago and had been a fan of Neil's, and this book in particular, and he emailed me and said: 'I've written this character that doesn't exist in the book', and I said yes. It was a very easy yes.
"Because I knew that whatever version it was going to take was going to be excellent, then I saw who was going to be in it and thought: 'This is going to be fun too.'"
Describing creating Hamm's character, Gaiman said: "I decided to steal from all the stuff Terry and I had made up and never used.
"Terry and I had this whole idea of what heaven was like and I thought for Gabriel to be Gabriel he had to be the best-looking angel you could imagine, and I thought the good-looking stuff will be a stretch for Jon but he could pull it off."
The audience was also shown a clip of the show that featured Sheen as an angel with bleached blond hair and white wings, while Tennant has long red ringlets and black wings.