Charles Venn has said he fears he has been in the Strictly dance-off three times because voters have the impression he is arrogant.
The Casualty actor was most recently in the bottom two at the weekend, when he was saved by the judges and This Morning star Dr Ranj Singh was sent home.
He told the Press Association: "I was very disappointed, it felt like the twilight zone, it felt like I had gone back in time.
"We had gone through this a couple of weeks ago. Everybody has perceptions about me, I shouldn't look at social media and whatnot but naturally you do, and if you're going through you see things.
"And some people said that I am arrogant or come across as cocky or too cocksure, which anybody who knows me knows I'm not, but everybody has their opinion, you have to respect that."
He added: "It was a bitter pill to swallow and the whole thing was people have got this perception of me and I'm like 'No, no, that's not me'.
"It is painful, of course, especially when you're not that but not everyone is going to like you and that is life. But of course it hurts, you're only human."
Venn said he was left on the brink of tears after he and professional partner Karen Clifton ended up in the dance-off for the third time after performing the Viennese Waltz to Billy Joel's Piano Man.
He added: "If anybody said to me Strictly is so emotionally taxing and you invest so much within that it can literally virtually bring you to tears, I would say 'Nah man, those shows don't do that to me, come on, this is a dance show'.
"But you do invest so much, blood, sweat and tears. You do so much and you spend so much time away from your family and so of course when you go out there you want to exhibit all of this work that you've been doing and to see yourself go to the bottom two, going through that process, and when they call you out, I honestly thought we were going home."
Venn said he hopes his resilience has set a positive example to his children.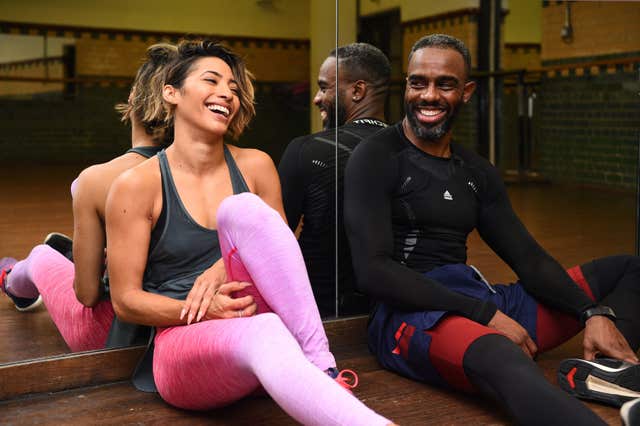 He continued: "My daughter was over there and seeing her dad go through this process and my son watching at home, they come to mind when these things go on.
"But at the very least no matter what, I think for my children and just children in general, if you can exhibit heart and perseverance and understand especially when you're faced with obstacles, that's an example.
"If I tell my son 'Never give up', he got that from me, he's watching me do it.
"If I tell my daughter 'Don't give up, look at what I had to deal with, the pressure I was under, you just have to have faith and focus', so in that sense sometimes you need to go through processes like that and reap even bigger rewards."
Venn, 45, added that the training had also benefited him both physically and mentally.
He said: "I'm seeing definition in my body that I honestly haven't seen since I was in my early twenties.
"In your thirties, your metabolism slows down. I know what I want to look like and this is what I want to look like but you literally have to give six or seven hours every day in the gym to get it and I can't do that.
"I've seen the changes, even mentally and cognitively, just memory recollection and so many things, because of multi-tasking, your brain is having to work so much and you're having to retain so much information.
"There is no doubt my body and my mind are more honed."
The duo, who are performing a Charleston on Saturday, are now determined to win a place at the live show in Blackpool next week.
"It will be what it will be but we are not leaving anything to chance and we are going to do everything in our power, blood, sweat and tears, that is the mantra, to get to Blackpool."
Strictly Come Dancing is on BBC One on Saturday at 7pm.