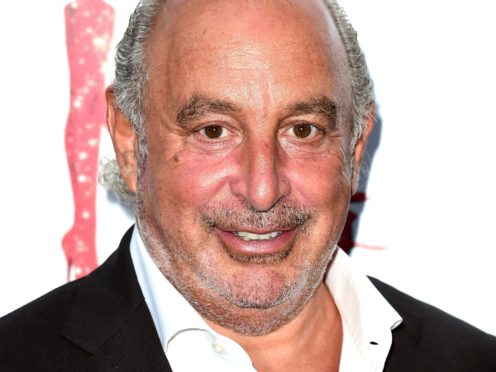 Work is under way to turn the "hubris and greed" of Sir Philip Green's rise to retailing power into a TV drama.
Rights to a book which charts the business dealings of the Arcadia Group boss have been bought by a production company seeking to dramatise his controversial climb in the business world.
Mammoth Screen, the company behind Victoria and Poldark, have secured the rights to adapt Damaged Goods: The Inside Story Of Sir Philip Green, The Collapse Of BHS And The Death Of The High Street.
The book, written by Sunday Times business journalist Oliver Shah, follows the ascent of Sir Philip through a series of aggressive business manoeuvres, and aspects of his lavish personal wealth and spending.
Mammoth Screen boss Damien Timmer told Radio Times Magazine: "Oliver's book is an unparalleled account of the last 40 years of big business in this country.
"It's the ultimate story of hubris and greed. We look forward to adapting this extraordinary book into a gripping and seminal drama for our times."
Recently Sir Philip has been embroiled in allegations of misconduct, and controversy surrounding an injunction taken out to prevent his identification in the case. He denies the allegations.
Sir Philip has previously made headlines during the collapse of British Home Stores, which was sold off for £1 in 2015, leading ultimately to thousands of job losses.
There have been calls for the revocation of Sir Philip's knighthood awarded during his career in business, which has prompted allegations of poor treatment of workers and of tax avoidance – issues detailed in Damaged Goods.
Mammoth Screen has confirmed that the dramatisation is in the early stages of production, and there is no set date for either filming or release.
An interview with Timmer can be read in Radio Times Magazine, out today.