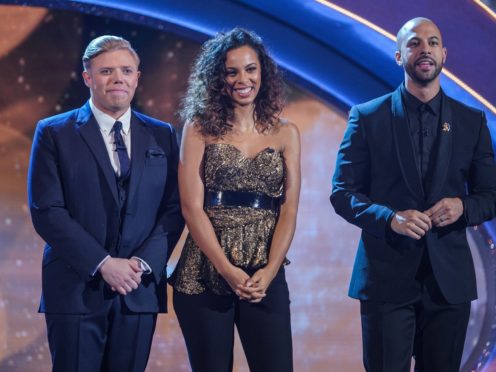 The star-studded Children In Need appeal show was the most-watched programme of the day as more than £50 million was raised for the charity.
The telethon drew an average audience of 6.2 million and peaked at 7.1 million, with a share of 32.5%, according to overnight ratings.
The TV fundraiser, which aired on Friday on BBC One from 7.30pm until 10pm, and then from 10.40pm until 2am, was up against programmes including two episodes of Coronation Street on ITV and Gogglebox on Channel 4.
A total of £50,595,053 was donated to the cause – meaning more than £1 billion has been raised by the charity since the first major appeal in 1980.
Within the first two-and-a-half-hours of the annual programme, viewers had coughed up £33,949,774 as the charity spectacular delighted audiences with a number of TV treats.
Boyzone reunited for their own version of Strictly Come Dancing, with Shane Lynch and professional partner Luba Mushtuk lifting the 2018 Pudsey Glitterball trophy.
The cast of EastEnders performed a medley of Disney songs from Beauty And The Beast, Aladdin and Frozen as Albert Square moved to the West End, while actor and comedian Stephen Mangan hosted a special episode of Mastermind featuring ex-footballer Steve McManaman.
The show also included a sneak peek of this year's Call The Midwife Christmas special and a teaser from a forthcoming episode of Doctor Who, as well as performances from Jonas Blue featuring Liam Payne and the cast of the School Of Rock musical.
A number of other BBC programmes also helped raise money for the charity, including a massive £9.2 million from Radio 2.
The impressive total was reached after Chris Evans's annual auction of once-in-a-lifetime events, his music and motoring festival Carfest, and thanks to some of the station's biggest names lending their support to raise money for the charity.
Meanwhile, The One Show concluded its traditional rickshaw ride with presenter Matt Baker at the helm, totting up a total of £4.3 million with the 423-mile journey from Calais to Salford.
Keeley Browse, who has spent years supporting the charity, was presented with the Sir Terry Wogan Fundraiser Of The Year Award – in memory of the show's late and much-loved presenter – and Jamie Cullum performed this year's Children In Need charity single, Love Is In The Picture.
Celebrities including Little Mix, Naomie Harris, Keeley Hawes and Katie Piper reminded viewers about where their money goes and urged them to help make a difference to the lives of disadvantaged children and young people in the UK.
Simon Antrobus, chief executive of BBC Children In Need, said: "Once again, people across the UK should be feeling incredibly proud of what has been achieved.
"The remarkable generosity shown this evening will go on make a lasting difference to the lives of disadvantaged children and young people all across the UK who really do need our help."
Tony Hall, director general of the BBC, said: "I want to offer my congratulations to everyone associated with Children in Need – to those who took part and to everyone who contributed.
"An incredible amount of money has been raised yet again – it will make a huge difference to the lives of many children and young people.
"Thank you."