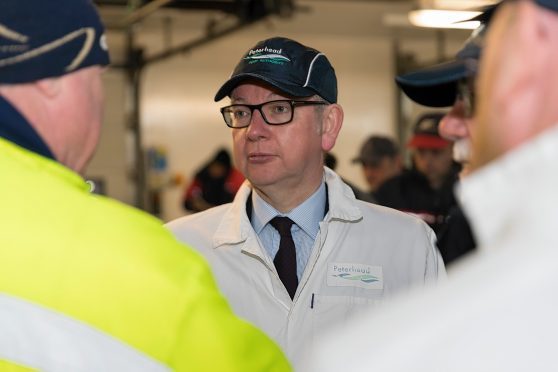 Environment Secretary Michael Gove was in friendly territory when he visited Peterhead to talk Brexit and fishing yesterday.
He took a tour of the Blue Toon's fish market and met industry chiefs to discuss how fishers will benefit from the UK's withdrawal from the European Union.
SNP MPs were toppled in the north-east at the general election as Conservative Party candidates tapped into strong fishing industry support for Brexit.
Speaking on the quayside, where he was able to see progress on a £51million port redevelopment part funded by EU cash, Mr Gove sought to reassure both fishers and farmers that life will be better after the UK quits the EU.
But he was unable to give any long-term guarantees for financial support or say how powers repatriated from Brussels will be divvied up.
Asked how the UK Government aimed to deliver the fishing industry's much-publicised "sea of opportunity", the minister was unequivocal.
"The legal position is very clear," he said, adding: "Leaving the EU will mean we will take control of our exclusive economic zone, so we will control quotas.
"Foreign boats will still have access to UK waters but it will be on our terms."
Mr Gove said the repatriation of powers from Brussels would reflect the best interests of "the Scottish people", but he stopped short of saying whether these powers would end up at Holyrood or Westminster.
And despite telling Scottish farmers and crofters on Thursday there was no threat of a reduction in farm subsidy support following Brexit, he offered no guarantee of a pound-for-pound replacement of current EU funding – or better – beyond 2020.
Scottish White Fish Producers' Association chief executive Mike Park said current EU grants were useful but added: "We are not a subsidised industry and never have been".