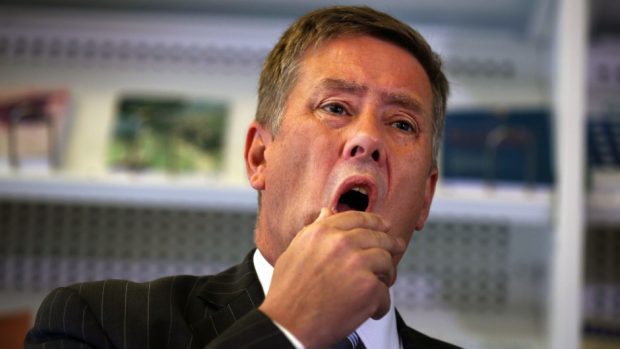 Scottish business is enjoying its longest run of expansion in nearly two-and-a-half years but Brexit is casting a dark shadow over future prospects, new studies show.
Bank of Scotland's latest purchasing managers' index – a measure of the month-on-month change in combined manufacturing and services output – highlights continued growth in June, although the pace was weaker than in May.
It also signals that companies across Scotland have seen increased employment numbers alongside growing new business and orders.
Economy Secretary Keith Brown hailed the findings as "a further vote of confidence" in the private sector north of the border, coming on the back of figures showing modest gross domestic product (GDP) growth.
He said: "While this is encouraging, Brexit uncertainty continues to cast a shadow over the future economic outlook, threatening jobs, investment and living standards."
Last week's GDP data from the Office for National Statistics showed growth of 0.8% in Scotland running at four times the UK figure, with Scottish unemployment also at a record low of 4%.
Mr Brown's Brexit concerns are reflected in survey results today from the British Chambers of Commerce (BCC), showing a large majority of Scottish firms – many more in percentage terms than for the whole UK – want Britain to remain in the single market and customs union.
BCC's poll of more than 2,400 businesspeople, including 445 in Scotland, found 61% of companies north of the border seeking continued EU single market access. The UK figure was 53%.
And more than two-thirds (68%) of UK respondents believed there should be a transition period of at least three years following the UK's exit from the EU in March 2019.
Scottish Chambers of Commerce chief executive Liz Cameron said: "Businesses value our trading links with the European Union, as they do with our other major trading partners, and this survey shows that businesses are serious about maintaining a relationship with Europe that continues to enable them to trade as easily as possible, with no financial tariffs and an absolute minimum of regulatory barriers.
"The EU may have fallen behind the rest of the world in terms of the value of Scotland's exports but it remains a vital export destination, particularly as Scotland seeks to grow the number of businesses trading internationally.
"This survey also clearly shows that Scottish businesses do not want to be facing a cliff edge in two years' time, when the UK will leave the EU.
"If Scotland and the UK's economic needs are to be satisfied, then business must be listened to during these crucial (Brexit) negotiations."
Bank of Scotland's figures, while positive on many fronts, also reveal a deep-rooted malaise among businesses north of the border.
Confidence towards future growth prospects eased slightly in June, reflecting weaker sentiment in both manufacturing and services, the bank says.
In a separate survey, the Confederation of British Industry (CBI) found a majority of UK firms aimed to increase the number of highly skilled jobs in the next few years.
But nearly two-thirds (61%) of the 344 organisations questioned from all sectors of the economy, ranging from manufacturing to construction and professional services, feared there would be a lack of suitably qualified workers to fill them.
And 84% did not feel the quality of careers advice young people receive in schools was good enough.
"Companies aren't asking teachers to do more," CBI deputy director-general Josh Hardie said yesterday, adding: "Schools need support to do this, from the long-awaited (UK Government) careers strategy … and businesses rolling up their sleeves and helping."