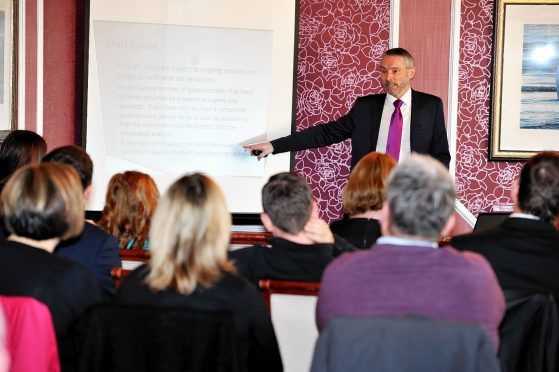 Appeals against business rates are on course to more than double, an exclusive survey of north-east bosses suggests.
Only around 7,000 formal protests were lodged about the previous revaluation in 2010 – 28% of a total of 25,000 properties.
The official in charge of the latest reassessment has downplayed the prospects of an "avalanche" of protests about the latest steep rises.
Ian Milton said the flow so far was on a par with what his team received at the same point of the cycle in 2005 and 2010.
But research carried out by Aberdeen and Grampian Chamber of Commerce suggests the volume may end up far higher this time.
Nearly 60% of those surveyed now say they intend to appeal against the new rateable values slapped on their premises because they fail to reflect the fragile state of the region's economy.
Half are seeking professional advice and a hardcore – five of those asked – are refusing to pay altogether.
Only 13% are resigned to taking the hit, agreeing that they will "accept my new rate".
Firms have until September to apply – with a late rush expected as professional surveyors submit them in bulk on behalf of clients.
Eric Shearer, of Knight Frank, said he expected a record-breaking number to seek a rethink from the assessors and told bosses "use it or lose it".
He said: "Given that 80% of properties in Grampian have seen increases in their rateable value, we would anticipate that the majority of the rate payers responsible for the payments will want to ensure that the increase is fair."
Mr Milton told the Press and Journal: "Appeal volumes for the 2017 revaluation are consistent with those received by this point in time following the 2005 and 2010 revaluations."
He also issued a caution over a small number of unscrupulous "cowboy" consultants seeking to exploit the situation to make money.
"I would warn ratepayers against instructing consultants if they cannot check their professional position," he said.
"At each revaluation we encounter a limited number of unqualified consultants who appear to take up-front fees to lodge an appeal but then abandon the case without necessarily advising the client."
Advice on appointing a consultant is available at
https://www.mygov.scot/business-rates-guidance/getting-professional-advice/