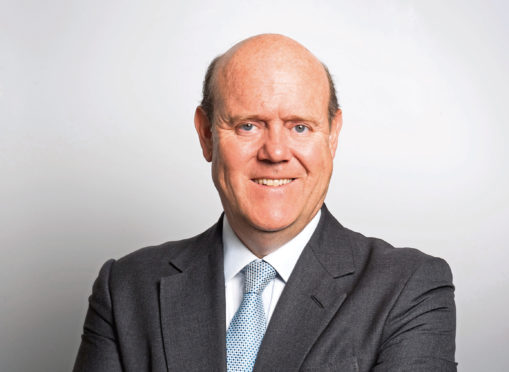 The chief executive of international service company Serco has been announced as the next keynote speaker at one of the most prestigious events in the north-east business calendar.
The 2020 SCDI Annual Lecture will be delivered by Rupert Soames, to an audience of around 300 invited guests in Aberdeen on Thursday January 16.
This will be the 16th annual lecture delivered by SCDI since its inception in 2004.
Regional director Ian Armstrong said: "We are delighted to have attracted Rupert to deliver our 2020 annual lecture.
"Serco employs around 50,000 people around the world, including 3,000 in Scotland who manage services such as NorthLink Ferries, Caledonian Sleepers as well as supporting the Ministry of Defence at Faslane and Lochalsh, the NHS at Forth Valley, Wishaw and Dumfries, and the Scottish Prison Service at Kilmarnock.
"We are delighted that Rupert has agreed to share his thoughts and insights on many of the key issues affecting the domestic, UK and international business environment. As his Twitter account states he is interested in people, public policy, the eccentric and the absurd.
"Given all that has been happening in the political sphere and its impact on global trade there will be much for him to reflect on and I know he is going to lead and deliver a fascinating discussion session and lecture which will greatly interest our members from across the country."
Mr Soames joined Serco as group chief executive on May 1 2014, tasked with turning around what was, at the time, a troubled business.
Over the last four years, the firm has been transformed into a specialist supplier of services to government in health, defence, transport, justice and immigration employing some 50,000 people and operating in 16 countries.
He joined Serco from Aggreko, the temporary power business where he served 11 years as chief executive.
During his tenure there, the market capitalisation of the business increased from £450 million to more than £5 billion.
Prior to Aggreko, he was with the software company Misys for five years, latterly as chief executive of its banking and securities division and spent the first 16 years of his career at GEC.
Mr Soames studied politics, philosophy and economics at Oxford University and was president of the Oxford Union.
He is a non-executive director of DS Smith, the FTSE-100 packaging company, where he is a member of the audit, remuneration and nomination committees and, until recently, he was a senior independent director of Electrocomponents and a member of the remuneration, nomination and audit committees.
Mr Soames is also a visiting fellow at Oxford University.