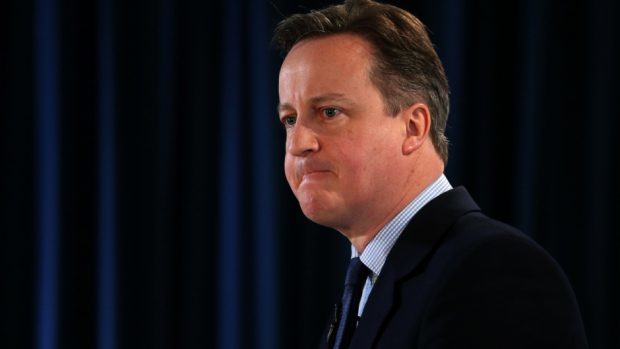 David Cameron has said he "dreads to think" what tax would have to be levied on Scotch whisky in an independent Scotland.
The prime minister pointed to new figures showing the country's deficit reached almost £15billion in the last financial year after revenues from North Sea oil and gas fell by more than 50%.
He made the remarks in response to the SNP's Martin Day, who called for a further 2% cut to excise duty on spirits in the forthcoming budget.
Argyll and Bute MP Brendan O'Hara also led a debate on the issue in Westminster Hall yesterday.
During Prime Minister's Questions in the main chamber, Mr Day said: "76% of the cost of a bottle of whisky is tax. Last year the government's 2% cut on duty increased revenue to the Treasury by £102million.
"Do you accept that one of our greatest export products is taxed too much?"
Scotch whisky is the single largest contributor within the goods sector to the UK's net export.
Last year 99 million cases were exported worldwide, earning £135 per second to the UK balance of trade.
Mr Cameron said he and the chancellor had consistently backed Scotland, Scotch whisky and "this vital industry".
But he added: "On the day that the profit and loss account for Scotland has come out, we can see that Scotland would face a £15billion gap if it were outside the UK.
"I dread to think what taxation would have to be levied not just on whisky, but on petrol, work, incomes and homes.
"That is the prospect of life outside the UK and that is why I am so glad we voted to stay together."
The latest data on revenue and expenditure published by the Scottish Government showed a deficit of £14.9billion for 2014-15 when a geographic share of North Sea revenues is allocated to Scotland.
In his questions, SNP Westminster leader Angus Robertson called on the PM to commission an urgent, independent inquiry into the treatment of asylum seekers following claims of dehumanising treatment at the hands of a private company contracted by the UK Government.
He also pointed to allegations of sub-standard housing and inhumane treatment of refugees in Glasgow, joining Labour's call for an inquiry.
Mr Cameron said he would look carefully at the points made on asylum seekers and that he was happy for the housing claims to be "properly investigated".
He added: "If the Scottish Parliament wants to carry out those investigations, of course the UK Government will co-operate with that."