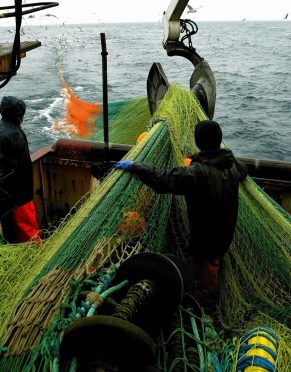 Quota cuts, a Russian ban on EU seafood imports and other problems faced by the pelagic fleet have led to a sharp slump in Scottish fish landings.
According to Scotland's Chief Statistician, 439,900tonnes of fish worth a total of £437million was landed by Scottish-registered boats during 2015.
This was compared with 480,700tonnes of fish worth £514million the year before, meaning volume and value declines of 8% and 15% respectively.
The Scottish Government said the plunge in landings last year was driven by a 12% decrease in the amount of pelagic fish – mainly mackerel and herring – brought ashore, to 291,500tonnes.
Pelagic landings were down by 27% by value, at £160million, after a collapse in mackerel prices.
Average quayside prices per tonne of Scottish mackerel – this country's most valuable stock – slumped by 23% to £635 at home ports and by 17% to £667 abroad.
Scottish Pelagic Fishermen's Association chief executive Ian Gatt said pelagic volumes were lower after a quota cut in line with scientific advice.
The drop in value for pelagic species reflected "an extremely challenging market" due to a number of factors, he said, citing the loss of the key Russian market and an economic crisis in oil industry-dependent Nigeria among the reasons.
He added: "Also, in the global market pelagic fish is traded in the (US) dollar currency, which has been very high over the past 12 months.
"It's not all doom and gloom. Mackerel prices have risen slightly and we hope to get a boost with the MSC (Marine Stewardship Council) certification. Also, herring prices look quite robust for the forthcoming season."
North-east Atlantic mackerel has just regained the coveted MSC-accredited status as a sustainably managed stock.
Russia's import embargo was introduced in 2014 in response to US and EU sanctions on Moscow amid escalating tensions over the crisis in Ukraine. It affects seafood, meat and dairy items.
Before the ban, Russia was the biggest export market by volume for Scottish herring and mackerel.
The latest provisional landing figures also show the value of Scotland's white-fish catch last year was unchanged at £143million, though volumes were up by 2% at 291,500tonnes.
Shellfish landings were down by 11% by value to £151million, with the quantity 6% lower at 61,500tonnes.
There were 13 fewer active fishing boats in Scotland last year, with 2,017 working, while the total number of people the industry employed at sea rose by 1% to 4,828.
Scottish Fishermen's Federation chief executive Bertie Armstrong said: "These figures illustrate the volatility of our fisheries and the continual challenges faced by fishermen."