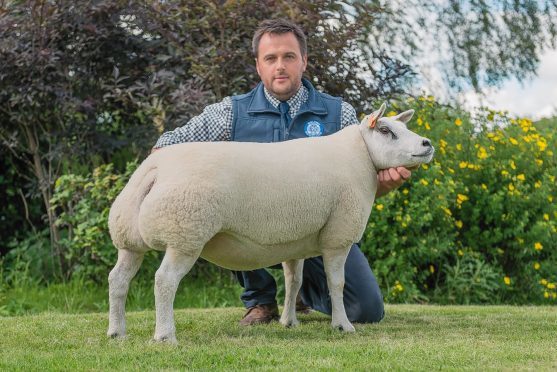 Pedigree breeders from the north-east were out in force at the Beltex Beauties sale in Carlisle.
The sale of pedigree Beltex females featured consignments form seven well-known flocks including two from the north-east.
First up for the region was Stuart Wood who runs the Woodies flock at Woolhillock Croft, Skene, Westhill.
Mr Wood achieved a top of 7,000gn for a gimmer named Woodies All Meat, which stood interbreed sheep champion at the Echt Show this summer.
This one is a February-2015 embryo transfer daughter of Clary Prankster out of Woodies Ray of Hope. She sold to Robert Jones and Co, Llwyn Teg, Gwynedd, Wales.
Next best for the Woodies flock at 3,200gn was March-2015 born home-bred gimmer Woodies Awol, which is a twin duaghter of Glenkeen Sanders and out of Woodies Tartan Lass. She sold to Page Farm Partnershp, Ripon, North Yorkshire.
In all, Mr Wood sold 17 shearling gimmers to average £1,772.65, four ewe lambs to average £708.75 and three ewes to average £553.
Meanwhile, Huntly breeders Ross and Kirsty Williams of Upper Tullochbeg, achieved a top price of 3,200gn for an entry from their Blackjack flock.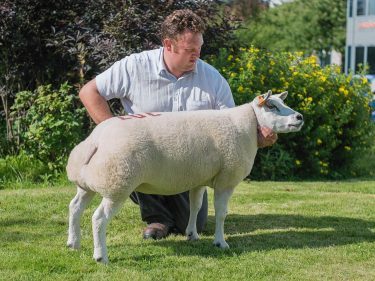 The couple's top price came with their home-bred January-2015 born gimmer Black Jack Atomic Kitten which stood breed champion at the Keith Show earlier this year.
An embryo transfer daughter of Padkin sugar Daddy and out of an imported Belgian ewe called Paola de Chawieumont, she sold to GC Beacom, Lakefiew Farm, Fivemiletown, Co Fermanagh, Northern Ireland.
The next best price for the Williams duo was 1,200gn for home-bred March-2015 born gimmer Black Jack Apollo.
This embryo transfer daughter of the 4,000gn Airyolland Thunder is out of an imported ewe called Croc 2. She sold to the same buyer of Stuart Wood's top-priced lot – Robert Jones & Co of Gwynedd, Wales.
In all, the Blackjack flock sold six shearling gimmers to average £1,132.25.
Meanwhile, the top price of the day of 10,000gn was paid for a gimmer from Richard Wood's Kingledores flock at Tweedsmuir, Biggar.
The February-born Kingledores Arienne is an embryo transfer daughter of Airyolland Storm Trooper and out of Kinledores Sari. She sold to A Neachell & Son, Shrubbery Farm, Walsall, West Midlands.