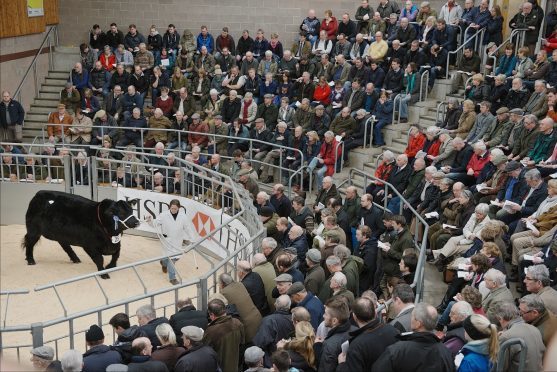 Strong commercial demand underpinned the Aberdeen-Angus trade at the Stirling Bull Sales yesterday, according to society chief executive, Johnny Mackey.
A 76% clearance saw 117 bulls change hands to average £5,735 which was £7 down on the year for 24 more bulls sold.
John Roberts of United Auctions said it was the largest crowd the market had ever seen both for the show on Sunday and for yesterday's sale, which sold out of catalogues by 10am.
The top price of 18,000gn was paid for John Lascelles' Balmachie Jack Eric from his 25-strong herd at Balmachie Farm, Carnoustie. This second prize bull was one of the first crop of calves from Balmachie Ben Vorlich which has since been sold to George Milne and George Hendry and out of Balmachie Juana Erica. Representing the best price John has received at public auction, he was sold to Kelso breeder, John Elliot, Roxburgh Mains.
A fourth prize junior bull from Neil Massie's Blelack herd near Aboyne made the second top price of 16,000gn to John and Marion Tilson's Wedderlie herd at Gordon, Berwickshire.
Blelack Pontius is the first son of Blelack Banjo Man, which was out of a 15,000gn cow and out of Blelack Pride. The last bull in the sale, also from Mr Massie, made 10,000gn to A. W. Neish, Rodmead, Wiltshire. Blelack Blue Jay was by Blelack Lord Hampton.
Alasdair Houston's Grentnahouse herd based at Gretna, had a successful sale with Gretnahouse Exocet by Gretnahouse Blacksmith selling for 15,000gn to Schivas Estate, Ythanbank, Ellon. He also sold Gretnahouse Black Ballboy, a full brother to Blacksmith, by Blelack Duke for 13,000gn to Glimpton Estate, Woodstock, Oxfordshire.
Another breeder to have a good day was Alastair Clark, who runs the Duncanziemere herd at Cumnock, Ayrshire. His best was 15,000gn for Duncanziemere Judge by the 2014 Highland show interbreed champion, Rawburn Jester Eric, selling to Andrew Hodge, Rulesmains, Duns. Duncanziemere Scotstoun by the same sire made 9,500gn to Wedderlie, while Huntlyhill Farms at Lanark took Duncanziemere Jack Daniels for 8,500gn.
John Coultrip, who runs the Wingfield herd of 40 cows at Faversham, Kent, made the eight hour drive worthwhile by purchasing the reserve intermediate champion, Eastfield Jockey by Abberton Proud Nixon from Tom and Euan Brewis, Lempitlaw, Kelso, for 13,000gn. Another from this herd, Eastfield Fiddler, by the same sire, made 9,000gn to R W Flaws, Nisthouse, Evie.
The overall and intermediate champion from Sunday's show was Cheeklaw Jake Eric by Cardona Proud Punch from David and Christine Lucas, Cheeklaw, Duns. He made 10,000gnsto Albert Decogan, Cork, Ireland.
Aberdeen-Angus females sold to a top of 9,500gn for a ten-month-old heifer, Rawburn Miss Essence by Rawburn Firebrand from John Elliot. She went to Brailes Livestock of Isalyn, Oxfordshire.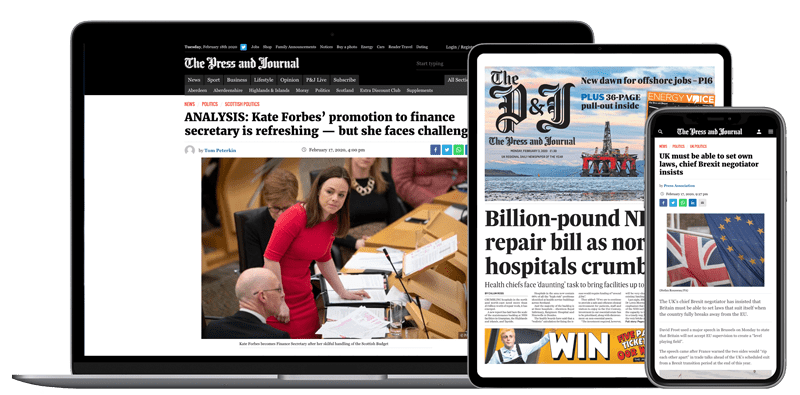 Help support quality local journalism … become a digital subscriber to The Press and Journal
For as little as £5.99 a month you can access all of our content, including Premium articles.
Subscribe