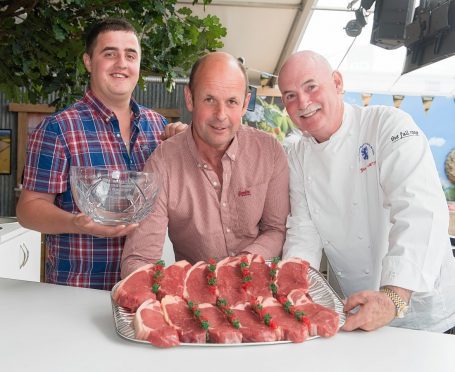 Aberdeen and Angus exhibitors triumphed in the two "best steak" competitions at the Royal Highland Show but neither of the winning exhibitors won with Aberdeen-Angus.
Top in the McIntosh Donald/Tesco competition was a steak from a British Blue cross steer from Graham Robertson, Tillyorn, Corse, Lumphanan, and the winner in the ASDA/ABP awards was one from a Limousin steer from William Nelson, West Brackley, Monikie, Dundee.
Judges in both competitions were full of praise for the high quality of the entries which reflected Scotland's pre-eminent position as a supplier of quality Scotch beef to home and overseas markets.
The winning steak from Mr Robertson came from one of 12 sirloins selected from an initial entry of 180 carcases which underwent preliminary judging at the McIntosh Donald's meat plant at Portlethen at the end of May. The steer weighed 369kg deadweight and classified U+4L.
"This the first time I've won although I had a steak in the top twelve last year," said a delighted Mr Robertson, who was accompanied by his wife, Aileen, elder son, Gary, who works on the family farm, younger son, Andrew, and daughter, Rachael. The family was presented with the McIntosh Donald Rosebowl and also win a cash prize of £1,000.
The Robertsons runs 100 Simmental cross suckler cows and 500 ewes as part of their extensive farming enterprise which runs to around 800 acres including seasonal grazing. All calves and lambs are finished on the farm and sold to McIntosh Donald.
Quality Meat Scotland chairman, Jim McLaren, who was a member of the judging panel who sampled the steaks for eating quality, said the winning steak was a "stand-out winner".
"The standard of all the entries was consistently high but the winning steak was fabulous," said Mr McLaren.
Runner-up in the McIntosh Donald competition was former overall winner, Ronnie Green, Little Kilblean, Oldmeldrum, with a steak from an Aberdeen-Angus heifer bought at Dingwall Mart last November from breeders, Ardross Castle Estate, Alness, Ross-shire. The heifer weighed 324.8kg deadweight and classified R4L.
A steak from a Simmental cross heifer weighing 316kg and classifying R4L took third place for R. Littlejohn, Corfeidly, Glassel, Banchory.
Mr Nelson's winner in the ABP competition was a 349.4kg Limousin steer classifying R+3=.
Runner-up was a Charolais steer weighing 324.4kg and classifying U-3 from Willie Cameron, Burnside of Edingight, Grange, Keith, with a 302.8kg Hereford steer weighing 302.8kg and classifying R+3+ taking third place for W Halley and Son, East Lochlane, Crieff.