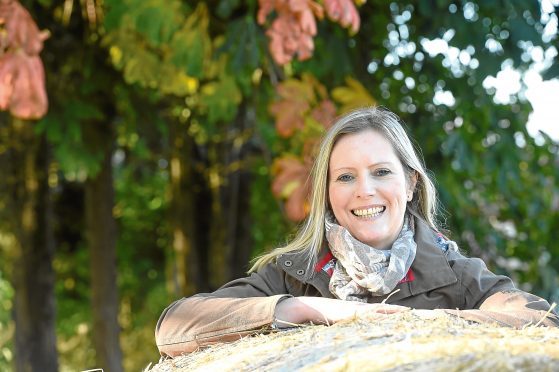 Confession: we did not get around to making sea buckthorn ice-cream as previously billed last column.
My (rather lame) excuse is six weeks of summer holidays and the inevitable lack of routine and structure that seems to besiege Rootfield as soon as the school bell rings on the last day of term.
My other (equally lame) excuse is that I believed I had bought a bottle of the curious looking bright orange liquid from enterprising foragers Wild and Scottish, but it turns out that I had only got as far as putting it in my online shopping basket before being distracted by the girls (occupational hazard).
Earlier this week Daisy started P3, much to my astonishment (where did another year disappear to?), so the sea buckthorn juice has been ordered, received and delivered to the parlour to trial the unusual summer flavour before the summer ends (to be honest, I'm still waiting for it to start).
Our week in the Cotswolds last month was gloriously hot and sunny. We arrived at Birmingham Airport mid-afternoon to a positively tropical 29 degrees and the lowest it got all week was a pleasant 19 degrees.
Happily, the only wet day was when I attended my soap-making course with my sister Kate in the beautiful village of Broadway.
Run by the Little Soap Company, the one-day course was a lot of fun and unexpectedly therapeutic. The soap-making was set up rather like a cookery show, with all equipment and "ingredients" laid out, in a bay-windowed kitchen in a traditional Cotswolds cottage.
Under the delightfully informative yet informal instruction of Bella, we made four batches of soap each – my favourite part was choosing the aromatic essential oils and nutrient oils while Kate liked experimenting with various dried flowers and colour swirls.
Unfortunately I was unable to transport milk from the farm to the Cotswolds – the original motivation behind the soap-making course – but Bella helpfully e-mailed me some information about how to make milk-based soap, which is only slightly different to the water-based cold processed soap recipe we were following.
In time, my intention is to try making soap with our milk to sell alongside our other dairy products, but it may have to go on the back-burner for now as other jobs take priority coupled with the fact that the local soap market may be somewhat saturated.
At this year's Moy Game Fair, for instance, I noticed there was not one but two new soap companies promoting their wares in the artisan craft tent. Then there was a third new company at the Black Isle Show, selling handmade goats' milk soaps.
On the show front, we were lucky to make it along to the Black Isle Show and Moy Game Fair at all this year. I will sound like a broken record when I tell you that we were hit by yet another bug the week before the shows, which meant that Nick wasn't fit to manage the stand at the Black Isle Show (fortunately my brother stepped in – thank you, John).
Not only this, but the gelato-making machine decided to stop working, also a week before the shows.
Nick tried to order a new part for the motor from Italy, but as many Italian companies shut down in the height of summer – who can blame them after their recent heatwave – including our supplier, there would be no delivery for three weeks.
Duncan came to the rescue with a bit of tinkering and a dose of oil and thankfully the machine kept going, albeit at a reduced pace.
It was also fortunate that our walk-in freezer, converted from a food storage container in the spring, was fairly well stocked so we could fulfil our trade account orders as well as make enough ice-cream for four consecutive days of retail trade at the shows.
We didn't need to worry too much, for Moy especially, as sales were down on last year thanks to a soggy first day (the mud was ankle-deep in places) but the two shows combined saw an increase in sales overall and it's always great to meet the customers and get feedback face to face, especially as everyone is so lovely about our products.
I returned to my floral theme for the stand this year and for the first time since launching the ice- cream at the Black Isle Show back in 2013, my efforts were rewarded.
Inspired by a bright pink wheelbarrow at our local garden centre, Munro's, which I planted up with a showy mix of baby pink and hot pink geraniums, it sat on apple crates on top of a table swathed in candy striped oil cloth behind the ice-cream counter. Paper honeycomb hearts in similar hues were suspended from the roof while our signature artificial grass was laid out front, flanked by two milk churns containing gelato-shaped box trees.
We have never been included in the best dressed stand competition before because we are located outside the main food hall so I was surprised when Nick came home on Thursday night and presented me with a large frilly blue rosette for Best Reserve Trade Food Stand. I was pleased, of course, although I would have been more pleased if it had been a red rosette – congratulations to our friends at Bad Girl Bakery on scooping the top prize.
Back on the farm, Nick is more relaxed after harvesting the whole crop and getting the second cut silage in and covered before it started pouring with rain last week.
Sadly however, Noah the bull (or Big Bad Barry as Daisy decided to rename him, after an oversized fish in children's programme Ben and Holly) is no longer with us after damaging himself, Nick thinks, on the job, sustaining a serious leg injury – an occupational hazard for a bull, I suppose.
NEXT MONTH: new milk markets
Rootfield Farm is on the Black Isle, 10 miles north of Inverness, where Jo lives with husband Nick, a fourth-generation dairy farmer, their daughters Daisy and Mollie, and 150 cows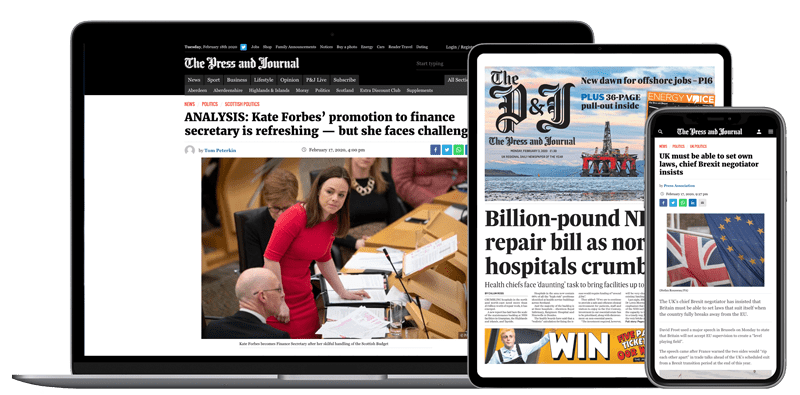 Help support quality local journalism … become a digital subscriber to The Press and Journal
For as little as £5.99 a month you can access all of our content, including Premium articles.
Subscribe