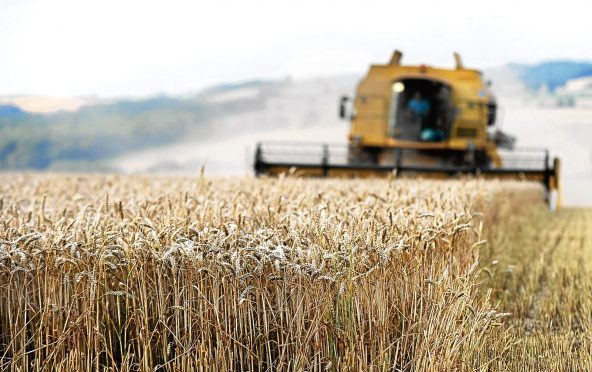 Scotland is on track for a bumper harvest despite the fact many growers are struggling to get combines near drenched fields.
The Scottish Government's chief statistician yesterday released the first estimates for the 2017 Scottish cereal and oilseed rape harvest.
Estimates put harvest up 12% on 2016 at 3.1million tonnes of cereals this year, including 1.9million tonnes of barley and a million tonnes of wheat – up 8% on the 10-year average.
Government said the increase was due to an expected 11% boost in overall cereal yields and a 1% boost in the total area of land sown to 1.069million acres.
Overall yields are expected to average a record high of 2.87 tonnes per acre, ranging from 2.51 tonnes for spring barley to 3.64 tonnes for wheat.
The amount of spring barley grown is expected to increase by 16% to 1.5million tonnes, with the yield expected to be the highest recorded yet, and winter barley production is likely to be up 13% to 371,000 tonnes.
Wheat production is up 7% to 998,000 tonnes, and this year's oats crop is expected to top 215,000 tonnes for the first time since the 1970s. Oilseed rape has rebounded from 2016, with yields averaging more than 1.61 tonnes per acre, resulting in production of around 140,000 tonnes.
The Scottish Government said final harvest estimates, which will take into account crops not yet harvested, will be published in December.
Rural Economy Secretary Fergus Ewing said: "Although many farmers have still to complete their harvest, this increase of around 330,000 tonnes on last includes a 14% rise in barley yields, 7% in wheat, and 3% in oats – a third consecutive year of strong growth and representing the highest oats yield on record, as oat production reached its highest level since 1989."