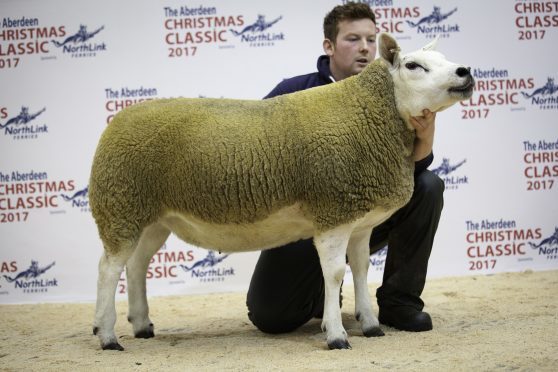 It was a clean sweep for Robbie Wilson, North Dorlaithers, Turriff, at the biggest show and sale yet of pedigree sheep at the Aberdeen Christmas Classic.
Demand was strong for Texel, Blue Texel, Suffolk and Beltex, with more than 200 head changing hands – including 25 at 1,000gn or more – and Texel gimmers and ewe lambs meeting a buoyant trade.
Mr Wilson's champion Texel, a gimmer by the 12,000gn Glenside Wild Boy and in lamb to the 60,000gn Strathbogie Yes Sir, attracted the top bid of 4,500gn – a record for a female sheep at Thainstone – from Steven Smith, The Byre, Sunnyhill Croft, Turriff.
Reserve was a ewe lamb by Halbeath VIP which sold for 3,000gn to W. Duthie, Woodside of Chapelton, Brechin.
With a succession of four-figure prices, including another by the Glenside sire at 2,400gn to A. and A. Gunn, Hill of Forss, Forss, Thurso, Mr Wilson finished up with the top flock average of £2,025 for seven gimmers and £1,890 for three ewe lambs.
Another at 3,000gn to Alastair Kerr, Ardmohr Cottage, Bolshan, Arbroath, was a gimmer from Graham Morrison, Inchbruich, Cornhill, Banff, who also sold a third prize gimmer for the second top price of 4,200gn to the judge, Keith Hourston, Skelbister, Orphir, Orkney. Both were sired by Millar's Windbrook and in-lamb to the 42,000gn Mullan Armani, owned jointly with the Strathbogie flock. Owners of the Strathbogie flock, James C. Innes and Sons, Dunscroft, Huntly, also sold a gimmer by the same sire at 2,400gn to A. D. Jack, Kilcoy, Muir of Ord, Ross-shire.
The Innes family also sold their Suffolk champion, a gimmer by Castleisle Knockout and in lamb to Strathbogie A Kind of Magic, at 1,200gn to David Delday, Quoy Belloch, Deerness, Orkney, and another by the same sire at 1,250gn to Ron Wilkie, Tillyboy, Echt. The Strathbogie average for eight gimmers worked out at £1,194.38.
Mr Delday also forked out 1,300gn for a third prize gimmer by Thurston Urastar from George and Melvin Stuart, Milltown of Birness, Ellon, who sold to a top of 1,400gn for the second prize winner in the same class by the 10,000gn Redbrae Rambo to Scott Milton, Tullochallum, Dufftown.
The Stuarts also took the reserve breed championship with a ewe lamb by Limestone Legend which sold for the top price for ewe lambs of 750gn to Craig Paterson, Cranna Bridge, Aberchirder.
Beltex sold to 900gn for the champion, a gimmer by the 6,500gn Corstane Whistler, from Colin Mair and Partners, Muirfield, Everton of Auchry, Cuminstown, to P. G. Milton, Mains of Allanbuie, Keith, and 700gn for the reserve from Stuart Wood's Woodies flock at Woodhillock, Skene.
Four Blue Texel gimmers sold to a top 1,250gn paid by A. and J. Alston, Chapelton of Menmuir, Brechin, for an entry from Stasa Moyes, Woodhillock, Skene.
The dispersal sale of Stewart Youngson's Westerton Texel flock from Cullerlie sold to a top of 350gn.
Averages: 64 Texel gimmers £859.79, five Texel ewe lambs £1200, 36 Suffolk gimmers £471, six Suffolk ewes £376, seven Suffolk ewe lambs £458, 19 Beltex gimmers £513