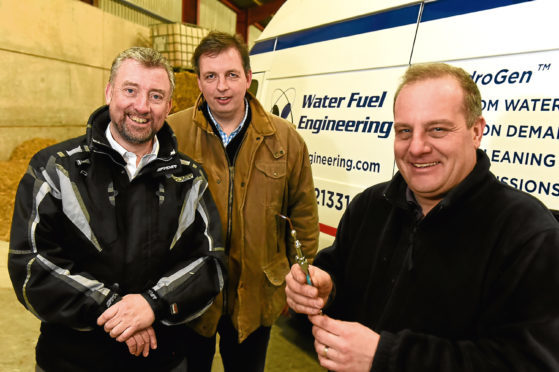 Pioneering hydrogen technology with the ability reduce, and possibly even eradicate, carbon emissions from tractors is now commercially available to farmers and crofters.
The special hydrolyser, or hydrogen electrolyser, technology has been trialled on a farm in the north-east for the past few months.
David Barron, who farms at Nether Aden, near Mintlaw, Peterhead, had his JCB loader tractor retrofitted with the hydrolyser as part of a Scottish Government-funded trial. It was the first agricultural machine in the UK to be fitted with the new technology.
The hydrolyser unit puts an electric current through distilled water to create oxy-hydrogen which is then put through the engine.
This results in fuel savings and a drastic reduction in carbon emissions.
Phil Davies, of Water Fuel Engineering Ltd, which fitted the hydrolyser to the loader, told farmers attending a meeting at Nether Aden that the technology was now commercially available.
He said the use of the electrolyser on Mr Barron's JCB had resulted in fuel savings of 18% and an 80% reduction in emissions.
"What David Barron is finding is encouraging," said Mr Davies.
"Since the trial we have had inquiries from all over Scotland and it is now commercially available."
He said the technology can be retrofitted to any tractor or loader for around £1,500, followed by a monthly fee of £110.
The fuel savings enjoyed by machines fitted with the technology should be in excess of £110, meaning farmers and crofters are not paying any more to run the hydrolyser, added Mr Davies.
"All people will pay for is to save fuel – that's the key to it," said Mr Davies.
"In order to seduce people into making the right environmental choices, there has to be a carrot and it's fuel savings. Farmers love it because it enables them to continue to use traditional vehicles but they are environmentally better, and it is cost neutral."