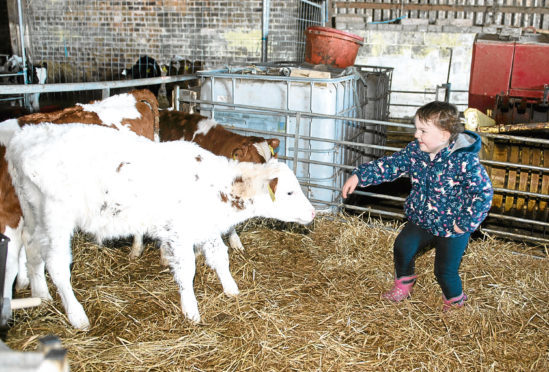 When Karen Steel and her partner Donald started a family, they knew they were going to have to do something different if the family farm was going to support both them and Karen's parents.
Having previously focused their 78-acre smallholding in Perth on livery work, the family wanted to do something which brought in a more consistent income and used the land more efficiently.
"When Donald came on to the farm, we were at a point where the livery business just wasn't working for us," said Karen. "We needed to utilise more of the land."
The solution came from relief dairyman Donald, whose family also runs a dairy herd in Fife.
Having worked on farms in the area, he saw the potential in rearing dairy bull calves for rose veal and suggested Fiona and her father, Jim, gave it a try.
"We thought it was a good idea, so we did a lot of research into it," said Karen. "There was only one other person in Scotland producing rose veal at the time, so we knew there was a gap in the market we could fill."
The family's first steps into rose veal production four years ago were tentative as they weren't sure how receptive consumers would be.
Unlike on the continent, where veal is popular, in the UK very little veal is eaten – thanks in part to the stigma attached to traditional veal production.
"In the 1980s veal wasn't produced in a particularly welfare-friendly way," said Karen.
Traditional veal involved feeding calves a restricted, low-iron diet to retain the meat's white colour.
However rose veal production, which is mostly from pure-bred dairy calves aged between six and 10 months, focuses on high-welfare production standards.
Meat can only be labelled as rose veal if calves are reared with ad-lib diets and loose-housed environments, and if producers have been officially approved.
"We started with 15 calves initially in small groups of four or five, which we bought directly from Donald's family farm," Karen said.
"We went to farmers markets and food festivals and started selling there. Going in slowly was a good way to test the market, but it also gave us time to get across to consumers that the calves are reared differently to traditional veal.
"Rose veal has to be high welfare – it's a name that is attached to ethically-reared meat that people can recognise. We've found that with repeat custom and talking to people that we're winning the battle. It's been a challenge, but we're really getting somewhere."
Having built strong local interest the family have increased cattle numbers, and now have 25 calves of varying ages on the farm at any one time which they sell under the Good Life Farming brand.
"We work with four farmers in Ayrshire, bringing in the cattle from 10 days old," Karen said. "It's important to us that the calves get colostrum from their mothers.
"We only work with farmers who understand what we are trying to achieve and will do the utmost for the calves as soon as they are born."
Once the animals reach the farm they are reared on milk and given access to haylage and a supplementary calf feed. At 12-weeks-old they move on to a diet of haylage, wheat, barley and minerals, and have access to grazing when the weather permits.
"We rear them to 10 or 11 months, but nothing later," said Karen. "Once a calf reaches 12 months the testosterone starts to taint the meat and they can't be labelled as rose veal."
In addition to targeting farmers markets and food festivals, the family have also been working with local butchers and chefs to bring veal to restaurant menus.
That created an unexpected challenge, as restaurants tend to want the same cut – the shin – leaving the family with the rest of the carcase to sell.
However thanks to initiatives from Perth and Kinross Council, as well as other local food groups, it's a problem Karen is confident they can overcome.
"The council works with SRUC, Scotland Food and Drink and other organisations to bring producers and restaurateurs together," she said.
"We hope that by talking to them about the potential of other cuts of meat that we can encourage them to take a quarter or half a beast. It's something we're hoping to crack this year.
"Local groups have been hugely helpful, and it's something we wish we'd known about sooner. The council helped to find us a mentor and helped us with our website, while Perthshire Chamber of Commerce also has its own mentoring service.
"It's about people sharing their knowledge to help each other, and it's been great."
This year Karen hopes to continue to build relationships with restaurants and farm shops to find new ways to sell to consumers.
The family has also introduced rare-breed pigs and Shetland lamb to the farm to help increase its offering.
"We have started doing Food Assemblies in Glasgow, Stirling, Argyll and Edinburgh, which is a great way to reach a wider customer base," said Karen.
"It can be a lot of travel, but people indicate what they want to buy beforehand, so if we know sales are limited we can decide not to go. We've also started catering, so we're also looking to develop that side of things this year."
All of these approaches take a considerable amount of time, Karen admits, especially now she and Donald have daughters Hannah, 4, and 11-month-old Ailidh. However support from parents Jim and Moira mean they are building a profitable business which can provide for the whole family.
"Without my parents' help it would be a real struggle, but they love going to markets and food festivals," said Karen.
"My dad also helps out with the cattle, so it's very much a family business. That's really important to us, as we want a sustainable business so that our children can grow up on a farm. It's a great way of life."