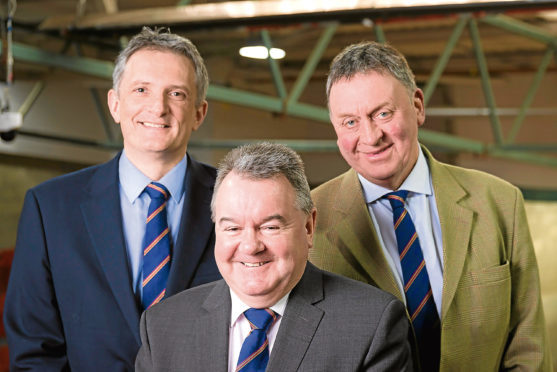 A well-known face at ANM Group is set to join the board just months after retiring from the company.
Alan Hutcheon, who worked for the north-east farmers' co-operative for 40 years before retiring in December, will attend his first board meeting at Thainstone, Inverurie, on March 13.
Group chairman Pete Watson, who farms at Darnford near Banchory, welcomed the appointment.
"Alan has had an impressive career and is well-known to, and thoroughly respected by, members and customers alike," said Mr Watson.
"To have an auctioneer on board with almost 40 years' experience is an obvious advantage, adding to our already incredibly diverse capabilities that reflect the strength and depth of our organisation from the core marts businesses, catering, and property, to vehicle and equipment sales, events and leisure."
He said Mr Hutcheon's contribution, drawing on experience gleaned from decades spent in the thick of the auction business, would be invaluable in informing the co-op's future strategy.
Over the years, Mr Hutcheon's roles at ANM have included selling prime cattle and canvassing livestock, together with the development of the Saturday plant, machinery and equipment sales.
He came to Thainstone in 1990 and was promoted to the ANM management team two years later, working his way through the ranks to become auction operations manager in 2015.
Mr Hutcheon, who hails from a farming background and still lives on the family farm at Greenden, near Balmedie, said he was honoured to be joining the board and to once again be part of the ANM Group.
He said: "The rural sector has always faced challenges, but what's always impressed me is the way the group has managed to adapt and move with the times, while staying focused on supporting its members and customers.
"For example, we were one of the first businesses of our kind to pioneer internet bidding, which has proven its worth especially at our Saturday sales.
"The ongoing development of our online presence — another example — is showing itself to be a particularly effective way of communicating with members and customers."
As well as being a familiar face at Thainstone, Mr Hutcheon became well-known with those outwith the farming community thanks to his appearances on the popular BBC television documentary, The Mart.
ANM Group chief executive Grant Rogerson welcomed the appointment.
He said: "Alan, who has been such an important part of our co-operative for many years, with his extensive knowledge; his huge network and the strong relationships he's built is ideally placed, as you can imagine, to represent the best interests of our members, our customers, and our core marts business at a strategic level."