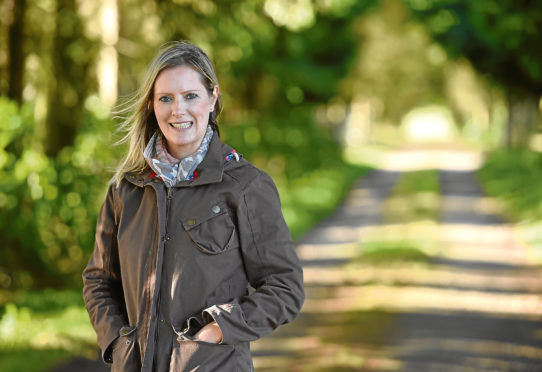 Our particular spot in the Highlands may have escaped the snow during the big freeze recently, but we weren't immune to the sub zero temperatures.
One night everything froze on the farm, from the scrapers to the pasteuriser. Even the downpipe from our bath in the older part of the farmhouse was frozen solid, which meant showers downstairs for the girls for a few days.
Nick's phone was buzzing constantly with alerts about robotic failure, particularly the night the mercury plummeted to below -10C. All he could do was pop a couple of space heaters into the robot rooms to encourage them to defrost, which they did eventually.
The weather affected the production unit too, with all the water pipes connecting to the machinery frozen so that Rosie couldn't pasteurise any milk or make ice-cream. Again, it was a waiting game for everything to warm up, with a little help from heaters, before things could get back to normal.
Since then, Nick has been to Brussels on the penultimate leg of the Rural Leadership Programme he has been participating in since October last year.
Run by Scottish Enterprise in association with Highlands and Islands Enterprise, this was the first time in several years that there have been any Highland participants on the scheme – surprising given the rural makeup of the region.
The three-day trip to Brussels and London saw every hour of the team's day occupied with a number of presentations and discussions at Scotland House, a tour of the European Parliament, then back on the Eurostar and straight to the House of Commons to meet their local MPs including Jamie Stone, brother of Rory of Highland Fine Cheeses, who buys the bulk of our milk (it's a small world).
What Nick took away from the enlightening European excursion was that things do not look good for farming post-Brexit, with no representation of UK rural interests in Europe.
The underlying message from the various advisers that spoke to Nick and his fellow participants in Brussels was that come next March, rural businesses will still be subject to if not the same, a version of the current EU regulations (due to the lack of time to formulate new ones) but Britain will no longer have any negotiating powers in Europe.
It's serious stuff and the visit has obviously given Nick a lot to think about in terms of the Scottish rural landscape.
Meanwhile, back on a more local level – and as Nick made his way up from London – our honesty cash box was broken into. A friend alerted me to the theft when she visited to buy milk, messaging me photos of the honesty box all busted open and a trail of small change on the floor. It took place at 3.15pm when Mollie and I were inside the house (Daisy was on a playdate) and Scott was working in the top shed, next to the shop. Scott even saw the two young culprits, but assumed they were in buying ice-cream rather than making off with the cash. Naturally, we were all completely shocked and sickened.
In the two years we have had an honesty shop here on the farm, there has been absolutely no problem with theft (true there has been the odd incident of payment made by pound notes, old pound coins, American dollars and even a few branded locker/trolley tokens, but never stealing.)
Unfortunately, and some will say naively, we never took the precaution of installing CCTV but we now feel we have to – for our own security as well as that of the shop.
The disappointment and sadness we feel about this opportunistic theft has been tempered by the overwhelming support of our many loyal and honest customers. As soon as Nick posted a message on Facebook to say what had happened, there were hundreds of comments – of outrage, disgust but mainly of sympathy.
Moving on to happier news, I was lucky – as ever – to be treated to a most wonderful Mother's Day last Sunday by Nick and the girls, starting with poached eggs on toast and my favourite cinnamon pastries accompanied by a raft of handmade cards, gifts and a song from Daisy.
Then it was on to grand Victorian shooting lodge, Coul House, with Uncle John, our lovely mums and my amazing 90-year- old gran for a proper old fashioned afternoon tea, finished off with a walk around the delightful fairy trail with the girls, high as kites after all the homemade tablet.
I was thoroughly spoiled and only felt a tiny bit guilty that I didn't make it to the Inverness half marathon where I had intended to run a 5k (all but one of the other mums opted out too).
Training will start again next week for the Race for Life in May – it's the least I can aim for especially as my friend Nicola has just had her team's place confirmed for this year's Highland Cross challenge (a 20-mile walk followed by a 30-mile cycle – eek!).
Another team of four gal pals, including Nick's cousin, is doing a 500-mile charity cycle between London and Paris in the summer. Good luck to everyone. I am in total awe.
Easter first though and we are looking forward to a few days with Daisy and Mollie's cousins, who will visit from London, before an eagerly anticipated family holiday in Orkney.
It will be our first visit to the islands which we've heard so much about from friends and we are fortunate to have a friend who lives in Stromness, the talented photographer Rebecca Marr, who has already whetted our appetites with a wealth of inside information on the best attractions.
We can't wait to experience a taste of Orcadian life.
NEXT MONTH: Start of the season
Rootfield Farm is on the Black Isle, 10 miles north of Inverness, where Jo lives with husband Nick, a fourth-generation dairy farmer, their daughters Daisy and Mollie, and 150 cows.