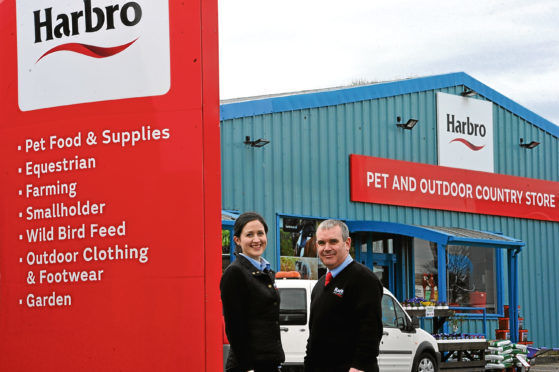 North-east animal feed firm Harbro has hailed a successful year with an increase in both profits and turnover.
The Turriff-headquartered company, which employs more than 440 people, reported turn- over of £108.9million for the year ended June 30, 2017. This is up £8.5million on the year before and includes a £500,000 increase in international sales to £2.8million.
Pre-tax profits increased by £200,000 to £3.7million.
Managing director Graham Baxter said: "We are delighted with the strong performance of the group. We have seen increased market share across a number of sectors within the UK despite challenging times."
He said during the financial year the company completed the acquisition of its 19th retail store in Elgin, and since then it has added two new stores in central Scotland to its portfolio. This follows the acquisition of Russell's Country Stores towards the end of last year.
"Our Country Stores-branded retail division has performed well and, with the addition of Elgin, Larbert and Linlithgow, we are now able to offer our customers support in a wider geographical area," added Mr Baxter.
Finance director Ross Baxter said during the year the company invested £3.7million in capital expenditure and the firm's net debt position increased by £700,000.
He said: "The increase in our net debt position was in line with our business plan.
"This was predominantly due to increased funding requirements as a result of an extensive growth capital expenditure programme as well as the acquisition of the Elgin store.
"These investments will position us well to grow our business across all UK sectors."
Commenting on the current financial year, Graham Baxter said: "We feel very positive about the future. As a board we are encouraged by our customers continuing to progress and innovate across all livestock sectors. As one of the UK's leading animal nutrition companies, we remain committed to providing high-quality feed and livestock products backed up with excellent technical support."