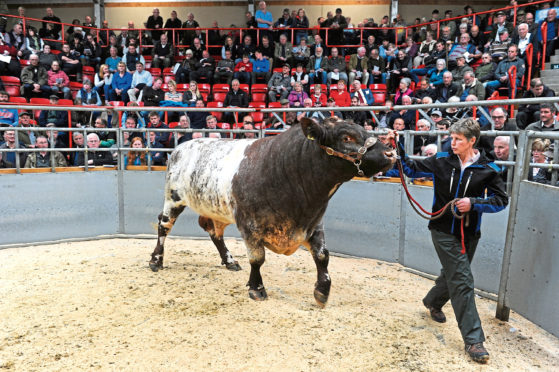 Beef Shorthorns being dispersed from the Anderson family's Smallburn pedigree herd near Elgin peaked at 5,800gn for a cow-and-calf outfit at Dingwall Mart.
The sale, which was staged alongside the annual sale of Luing, native and continental breeding cattle, attracted what is believed to be the largest crowd of buyers and spectators at any livestock sale since the opening of the mart.
The sale leader was Smallburn Jilly, a March 2015-born cow by Creaga Dice, which sold in-calf to Meonside Javelin. Bred out of Lowther Sally, she changed hands with her March-born bull calf by the same sire, to Glenrinnes Farms, Dufftown.
The same buyers forked out 5,000gn for Smallburn Katie, which stood junior champion at last year's Royal Highland Show. This three-year-old cow is by Coldrochie Front Rank, out of Smallburn Fancy, and is due to calve down in October with her second calf to Meonside Javelin.
Selling for 4,800gn to Stephen MacKenzie, Auchmore, Muir of Ord, was Lowther Sally – a nine-year-old cow by Blelack Minstrel, which has been unbeaten in the show ring standing supreme champion at Grantown Show in 2017.
A grand-dam of Smallburn Jethro, which stood breed champion at the Highland last year, she sold with her April-born bull calf by Burnside Judge.
Inga Kemp, from Greenhall, Deerness, Orkney, forked out 4,600gn for Smallburn Hilary – a five-year-old ET-bred cow by Star P Matrix, out of Prairie Lane Sparkle – and her heifer calf by Meonside Javelin.
The family's stock bull, Burnside Judge, sold for 4,400gn to Kincraigie Farms, East Kincraigie, Lumphanan. He is an April 2015-born son of Paintearth Rama. Just behind at 4,100gn when selling to Glenrinnes Farms, was Gilven Butterfly – a two-year-old heifer which is due to calve in October to Smallburn Jethro. Shown successfully last summer, she is by the noted Meonhill Charlie Chaplin, out of Hallsford Butterfly.
The first outfit through the ring made 4,000gn to Stephen MacKenzie, Auchmore. This was Shawhill Fancy, a seven-year-old cow which stood champion at Nairn Show. By Alvie Blue Eyed Boy, she changed hands with her nine-month-old heifer calf Smallburn Misty and is scanned in-calf to Meonside Javelin.
Glenrinnes Farms then paid 3,800gn for Smallburn Judy, a March-2015 born cow by Blelack Messenger, which is due to calf in July with her second to Smallburn Leader.
In all, 21 lots sold to average £2,646.72, with a further eight selling at or above the 3,000gn bracket.