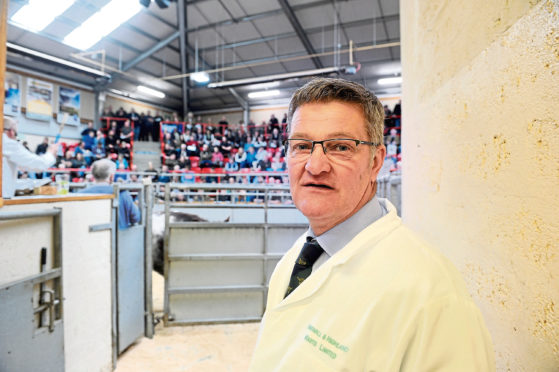 More than 40 years of dedicated service to Dingwall and Highland Marts and its preceding companies will come to an end today for managing director Ian Tolmie, when he hangs up his white coat for the last time.
A popular and well-known face in the Highland agricultural community, Mr Tolmie joined the initial Reith and Anderson company as a trainee auctioneer in October 1976 at the age of 17.
In 2014, he became the company's managing director on the retirement of former boss Kenny McKenzie.
Over the last 43 years, Mr Tolmie has witnessed some massive changes in the agricultural industry and in the firm itself, including Reith and Anderson's amalgamation with Hamilton's and United Auctions and then the buyout of UA's stake to allow Dingwall and Highland Marts to be a standalone business.
He recalls the establishment of Dingwall Auction Mart in 2003, having made many trips to other auction marts throughout the country to design the best mart possible for the Highland community.
Since then, it has become the agricultural hub in the north and Mr Tolmie believes the centre came at the right time for the industry in the Highlands.
His passion for agriculture began at a young age when he spent many days at Invercharron Mains, Ardgay – the farm where his mother was born and brought up. It was Ian's late uncle Duncan Munro who gave him the encouragement to go down the auctioneering path.
He said: "I was fortunate to be given such a great opportunity at a young age and I am forever grateful for the encouragement and support my bosses gave me.
"I have fantastic memories from my very first days and some of my most memorable ones are trips to the islands and sales in Skye.
"The first time I sold sheep was in 1978 at a seasonal sale of crofters' lambs in a sheep fank at Brora and that same year, I had my first go at selling cattle in outside stances on North Uist.
"It was a great way to get into livestock auctioneering and buyers from all over came to those sales, but sadly such systems are not viable now."
Like most, though, a period which Mr Tolmie will never forget during his time as an auctioneer was the outbreak of foot and mouth disease in 2001.
"Although the disease didn't break out up here, we still had to follow all the protocols and it just showed that when there's adversity, people pull through," he said.
"Despite it being a tragic time, we got to know customers in their own areas very well and I'll never forget how able some people were. The community and industry as a whole really came together."
The introduction of cattle passports and electronic sheep tagging stick out as some of the biggest changes during Mr Tolmie's time at the mart, as does the introduction of continental breeds.
"I remember a big change in the style of calves bred on the hills," said Mr Tolmie. "Crofters moved to continental bulls and by using traditionally bred cows, they produced top-quality calves which were sold straight off their mothers to lowland farmers for finishing. It's a simple system and one that still works well today."
Mr Tolmie pointed out that the next big move in the industry will be electronic tagging (EID) of cattle.
He said: "It would be a big step forward but would certainly reduce costs and labour, and improve the health and safety of farmers and livestock handlers. Paperwork should significantly be reduced as well."
He also remains concerned about the ongoing decline in sheep and cattle numbers in the Highlands and Islands, and said farmers and crofters need an incentive to carry on producing in these areas.
"It's a problem that is going to become more evident if younger people are not encouraged to come into the industry," he said.
"There are high costs of production and returns are tight but the average age of the farming community adds to the problem of keeping livestock in these areas."
Mr Tolmie, 60, said he thoroughly enjoyed his career and that training to be an auctioneer is a lifelong experience.
"Every day is a different day but it's all about job satisfaction and trying to get a decent trade for your customers," he said. "My favourite time of year was always the start of the lamb and calf sales in the back-end because it marked a new season and a new challenge.
"I was lucky that I got the job of selling so many different breeds of cattle and sheep throughout my time and I've met so many people through my job and have made lifelong friends."
Assistant manager Grant MacPherson will take on the managing director's role for Dingwall and Highland Marts, while senior auctioneer and sales director Paul Spencer will hold the responsibility of running all livestock and machinery sales at Dingwall, Lochmaddy, Stornoway, Fort William and Portree.
They will be supported by a young and enthusiastic team.
Today will undoubtedly be a difficult day for Mr Tolmie but it marks a new chapter in his life and it is fitting that he will spend his last official working day with the company at a displenish sale at Lower Gledfield, Ardgay – the farm directly across the river from Invercharron Mains.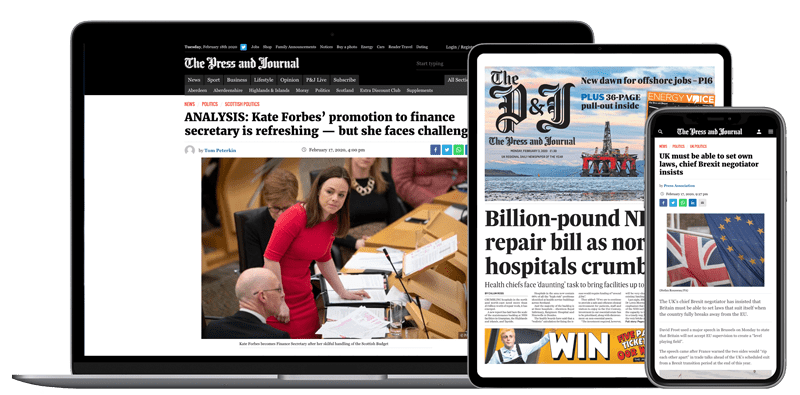 Help support quality local journalism … become a digital subscriber to The Press and Journal
For as little as £5.99 a month you can access all of our content, including Premium articles.
Subscribe