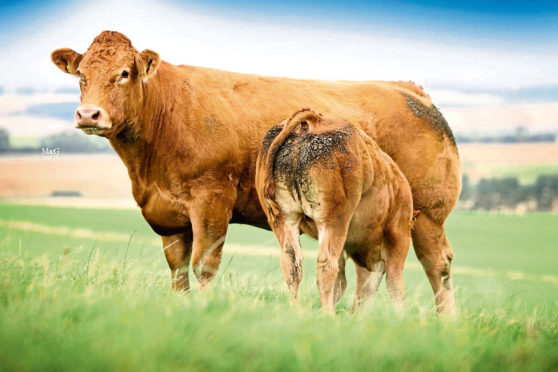 The dispersal of the Homebyres herd of pedigree Limousins from Kelso breeder John Logan topped at 26,000gn for a cow and calf outfit.
The sale leader was four-year-old Homebyres Lovely, by Ampertaine Foreman, and her April-born bull calf, Homebyres Prodigy, by Fieldson Alfy.
Lovely sold for 17,000gn to Messrs McKerrow & Sons in the Scottish Borders, while Prodigy sold for 9,000gn to the Ralph family for its Varis herd at Wester New Forres Farm, Forres.
Other leading prices included 8,800gn for seven-year-old Homebyres Hillie, by Lowerffrydd Empire. She sold with her April-born bull calf, Homebyres Pace, by Ampertaine Magnum, to Messrs Walker, Dunnottar, Stonehaven.
Miller Farms, based at Midmar, Inverurie, paid 6,200gn for seven-year-old Homebyres Hobbie, by Homebyres Arnott, with her April-born bull call, Homebyres Parkin, by Ampertaine Elgin.
They also paid 5,000gn for the first lot through the ring.
This was 11-year-old Homebyres Dawn, by Homebyres Vanhee, with her April-born Ampertaine Elgin sired-bull calf, Homebyres Paton.
Messrs Mackay, at Cawdor, Nairn, paid 6,000gn for four-year-old Homebyres Lassie, by Westpit Highlander.
She sold with her May-born heifer calf, Homebyres Prissie, by Larkhill Julius.
Bulls topped at 8,000gn for seven-year-old stock bull Westpit Highlander, by Netherhall Doubleoseven.
Bred by the Gammies at Drumforber, Laurencekirk, he sold to Messrs Graham, Dalston, Carlisle.
The averages were: Cows and heifers served and/or suckling, 67, £5,155,97; served heifers, seven, £4,245; maiden heifers, 25, £4,208.40; embryo calves with recipients, four, £4,200; stock bulls, two, £5,880; and young bulls, five, £5,145. Auctioneers – Harrison and Hetherington.