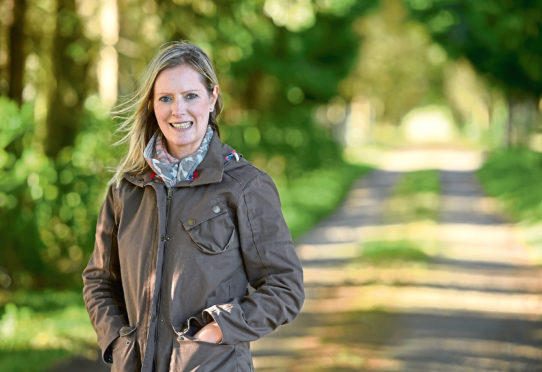 In her monthly column, Jo Mackenzie writes about life on one of the few remaining dairy farms in the north of Scotland
Whether it's a sign of growing older or a throwback to the year that Mollie was born, I have become one of those annoying people who is already organised for December 25 by the end of November.
This year I have gone a step further and tried to cut back on many of the excesses associated with this time of year, namely gifting, particularly plastic toys, over-catering and stress.
Again, I think this is down to a number of factors, one being the general commercialisation of Christmas, another the planet and a third, Nick's potentially fatal accident in the summer which saw me re-evaluate what's important in life.
And for once, it seems like I'm 'on trend' if the radio phone-ins and articles are anything to go by.
I was shocked to hear that the average family spend on presents is £700 with many still paying off credit card debts the following Christmas. You can understand how it happens, but the overwhelming consensus of the Scottish listeners was a shared distaste for the excess of the season.
There is also a drive to shop local across the country, particularly in rural areas, at this time of year with last week being promoted as Small Business Saturday by business minister Jamie Hepburn.
As Hepburn pointed out, 'small businesses are the backbone of the Scottish economy, providing 1.2 million jobs across the country' with the food and drink industry cited as the second-largest contributor to the economy.
Small Business Saturday alongside other local campaigns such as Just A Card encourage you to support your local florist, gift shop, gallery, designer, butcher, baker etc. There are also a plethora of craft fairs this month which give shoppers a chance to buy sustainably produced, unique gifts and I love finding unusual items as well as beautiful cards in charity shops.
With the processing arm of the business, we are lucky that friends and family are happy to receive foodie gifts of our ice cream, artisan cheese, natural yoghurt, proper milk in a traditional glass bottle or one of our seasonal ice cream cakes.
Thanks to my lovely Gran, who kindly gave me her Brother sewing machine, I've also made some of my Christmas gifts this year. I have such fond memories of Gran working away at her mahogany Singer machine when I was little, making my ballet dresses and Halloween costumes, and for some reason I have a box full of fabric remnants dating back at least a decade.
Earlier this year, I finally decided to sign up for a beginners' sewing workshop in Cromarty and have since attended two more at the fabulous Wee Fabric Shop in Inverness, furnishing me with the basic skills and confidence to upcycle my bits of velvet, tweed and printed linens.
Don't get me wrong, I'm not trying to be all righteous here – having seen Frozen 2 with the girls, we certainly haven't managed to go completely plastic-free on the present front – I just feel quite strongly that Christmas has become so commercialised and stressful that the sparkle and magic of the season have been sidelined.
I'm thinking simple things like decorating the tree, baking with the kids, enjoying a festive film together, sledging and building snowmen (the girls are desperate for snow, Nick not so much), reading Christmas books, playing games and having a good old boogie to cheesy Christmas tunes.
The best present that myself and the girls could wish for at this busy time of the year would be more time with Nick. As all farming families will appreciate, though, the farm doesn't stop for Christmas.
Robotic milking and competent staff have certainly given us more quality time together the past two festive seasons and I realise it's important to make the most of ice cream sales in the run up to Christmas because January and February are particularly quiet months.
Nick and the team have been kept busy on the farm with routine TB testing (all clear, thankfully) as well as a full repair of the centre pass. My father-in-law's sheep have arrived for winter, too.
To boost the ice cream business this month, we have launched a pop-up waffle barn at the farm with hot chocolate and ice cream bubble waffles for sale when Rosie and the team can fit it in around their usual trade orders.
The girls and I along with the rest of the farm staff have enjoyed trialling these crisp confections. Hailing from Hong Kong, the bubble – or egg – waffle is thinner and lighter than a traditional Belgian waffle and is moulded inside a cardboard cone-holder while still warm then filled with ice cream, whipped cream and topped with sauce.
Offered up with the hot chocolate, teas and coffees (sadly just instant, we're not going full-on cafe), we hope the warm waffles might prove a popular festive treat for our customers while they're stocking up at the honesty shop.
Clearly, we will benefit from any extra trade but I also like the idea of families enjoying a warm drink and snack together made with milk produced here on the farm.
I was also inspired by the new book, Calm Christmas And A Happy New Year by Beth Kempton, which encourages readers to slow down and stay connected this festive season, entering the new year with "precious memories, feeling rested, rejuvenated and inspired". Now that sounds like bliss.
Whatever you're doing this Christmas, we wish you all – readers, friends and family, valued farm staff and colleagues – a joyful and stress-free festive season.
Next month: New beginnings