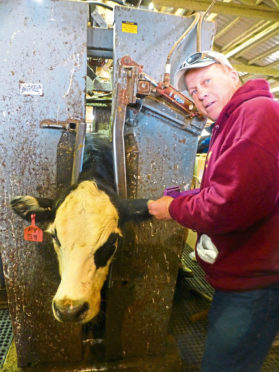 Proposed trade deals between the UK and the US have heightened interest in United States agriculture. Nancy Nicolson visited the Midwest to find out more about farming across the pond
The owners of Larson Farms in Illinois have no problem demonstrating the benefits of hormone-implanting their cattle.
As Mike Martz picks up the implant gun and slams the growth promoter in a steer's ear, he explains the procedure costs $3 (£2.29) and the reward in saleable meat is $15-20 (£11.43-15.25).
"That's why 98% of the cattle fed in the United States are given hormones. They gain weight faster, so the beef is cheaper to consumers. The key is feed efficiency," he says.
His outfit, on 6,500 acres an hour west of Chicago, can feed 3,650 cattle on slats at any one time, and produces 8,000 head of finished beef every year – a figure Mike translates into 6.4 million pounds of carcase beef.
Cattle are brought in to be finished from smaller producers elsewhere in Illinois as well as Virginia, Iowa and Kentucky in a business he likens to running a hotel for cattle.
They are sold locally to the big meat packers, and he is well versed in defending synthetic hormone implants, a practice widespread in the UK until it was banned by the EU in 1989.
The prospect of US hormone-treated meat on UK supermarket shelves is one of the most controversial aspects of a proposed trade deal.
Mike claims the science proves it is safe, although at least one of the hormones routinely used was judged a significant cancer risk by the EU.
"We get a bum rap on what we're doing, and hormone-free is the buzz word these days, but there's not enough premium in that to offset not using hormones," he argues.
"People think we're shooting animals up, but when the implant costs $20 (£15.25) a head we're not going to do that. We use the science. If I didn't use them there would be more back fat on the animal, so this way they're leaner.
"I don't care what people choose to buy, but I want them to be educated."
Larson Farms describes itself as a "modern cattle processing facility" and, along with two neighbouring feedlots, pioneers using ultrasound as a marketing tool.
By scoring back fat and marbling they can project precisely how many days they must feed an animal to achieve the best conformation and price.
Ultrasound technician Bert Hueber said: "You capture an image on an ultrasound machine of the ribeye at the area of the 12-13th rib, about the same spot where they'll break that side of beef to grade it at the plant where it's harvested.
"It's connected to a programme on the laptop which has various premiums and discounts for quality and yield grades, and also for weight breaks.
"The US Department of Agriculture meat grades are 'prime', which is the best, then 'choice' and finally 'select'. Larson used to achieve 3% prime, and now it's 8% thanks to ultrasound."
But while the Illinois feedlots are harnessing slick technology, they still aren't required to use electronic ear tags to guarantee full biosecurity and traceability.
Mike says: "We're currently looking at what would work, because most beef producers recognise there's a need to take that step.
"We're testing the technology and looking at implementing it across the US in case there is ever a nationwide problem, but what will drive it is McDonald's or Walmart."
Nancy Nicolson's visit was organised and funded by the US State Department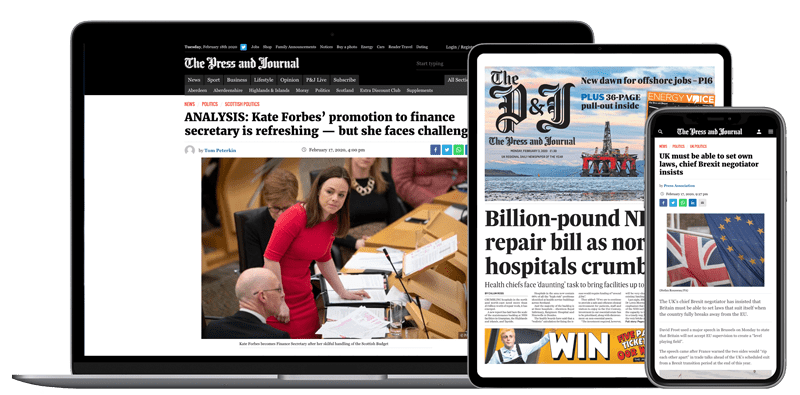 Help support quality local journalism … become a digital subscriber to The Press and Journal
For as little as £5.99 a month you can access all of our content, including Premium articles.
Subscribe