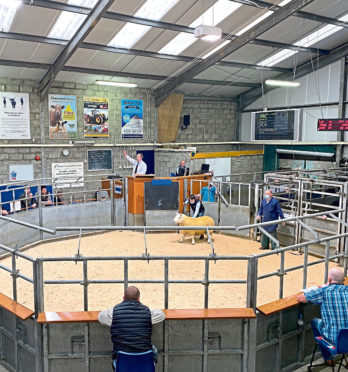 North Country Cheviot rams topped at £4,100 at Aberdeen and Northern Marts' annual ram sale at the Caithness Livestock Centre.
The sale, held in conjunction with the North Country Cheviot Society, attracted buyers from across the country and 54 rams averaged £997.59 – up £166.04 on the year for four less sold.
The sale leader was a shearling, Cairnside Am Your Man, from Alan Simpson's Cairnside flock at 36 Oldhall Watten, Wick. Selling to Northern Ireland with JS Armstrong, Leam House, Tempo, Enniskillin, he is by Biggins Warrior.
Johnnie Campbell from Bardnaclavan, Bridge of Westfield, Thurso, topped at £4,000 for Bardnaclavan Ace. By Wester Tamnavulin, he sold in a two-way split to Alan Simpson, Cairnside, and J and M Crowe, Overton, Mid Clyth, Lybster.
Bardnaclavan also sold sons of Longoe Whistler for £3,300 and £2,400.
The dearest was Bardnaclavan Armani, selling to Alan Mackay, South Balkeith, Tain, and Bardnaclavan Apache, which made £2,400 to Donald Campbell, Mill Farm, Thrumster.
James Allan from Durran Mains, Castletown, Thurso, topped at £3,600 for a shearling named Durran Ace. By Biggins Wizard, he sold to Johnnie Campbell, Bardnaclavan and J and J Smith, Upper Conquoy, Holm, Orkney.
The Baillie family, Sebay, Tankerness, Orkney, topped at £2,200 for Sebay Almighty. By Harestone Woohoo, this shearling also sold to Johnnie Campbell, and J and J Smith.
Also selling at £2,200 was Longoe Admiral from the Queen Elizabeth Castle of Mey Trust's Longoe flock, Thurso. By Balkeith Vital Spark, he sold to Andrew Gunn, 3 Upper Dounreay, Thurso.
Henry Mill and son Alick, from Achscrabster, Bridge of Westfield, received £2,000 for Achscrabster Awwesome, by Upper Cornquoy Vigour, when purchased by Neil Barclay, Harestone, Banchory, and Stewart Sleigh, St Johns Wells, Fyvie.