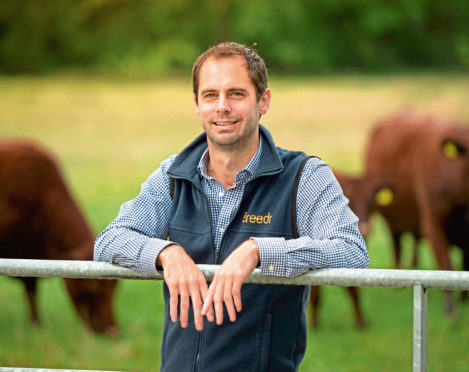 An app to help farmers improve the efficiency and profitability of their beef enterprises is gaining momentum across the UK.
The Breedr app, already in use on more than 900 farms from Orkney to Cornwall, is being downloaded and used by approximately 100 farmers every month.
Breedr founder Ian Wheal said the app was designed to create a "new era of co-ordinated livestock production" in the UK by linking the producer of calves right through to the retailer.
He said the aim of the app was to use readily available data – such as weight, breeding details and diet – to help farmers produce a good, consistent quality of beef and also enable them to benchmark their herds against their peers across the country.
Mr Wheal said there were high levels of waste in the sector and data from levy body AHDB shows 55% of finished cattle in the UK are out-of-spec.
This in turn leads to a dramatic variation in the performance of beef enterprises, very low farm profitability, a higher environmental impact and a poor experience for consumers buying beef.
"Our vision is to be able to increase the profit by £100 per animal for the producer," said Mr Wheal.
"And we believe it's easy to achieve a 20% reduction in greenhouse gas emissions."
He said analysis of carcase kill-sheets from animals produced using the app to date showed 79% of cattle hit the top specification required by abattoirs and cattle were finished, on average, five months earlier – resulting in a saving of 1.8 tonnes of feed per animal.
Based on these numbers, Mr Wheal estimates that if every beef farmer in the UK downloaded and used the app, there would be almost 475,000 more in-spec prime cattle presented for slaughter every year.
This could save around 3.6 million tonnes of feed each year, equating to around £650m in feed costs and free up 360,000 acres of land.
Explaining how the app works, Breedr's product manager, James Wright, said it worked both online and offline and it can be used by multiple users in multiple locations.
He said: "This is a really powerful tool when you come to sell this animal because it has a really good weight and health history."
For farmers wanting to record weights, the app can be used with electronic identification (EID) tags or an animal's tag or passport number can be manually logged in the system beside its weight.
In addition, Mr Wright said farmers can use the app to easily log medical records and the user can scan the QR code on a bottle of medicine and then mark that against the animal or animals it has been given to.
Breedr also includes a web-based platform and farmers can use a predictive tool within the programme to analyse an individual animal's weight records and predict when it will be ready for slaughter.
Mr Wright said: "The data can help with planning cashflow by knowing when animals are going to be ready for market."
In addition, farmers can use the app to compare their herd against others and also compare the performance of individual animals in the herd – including a comparison of the performance of the progeny of different bulls on the farm.
Mr Wheal said versions of the app for other livestock species were in development.